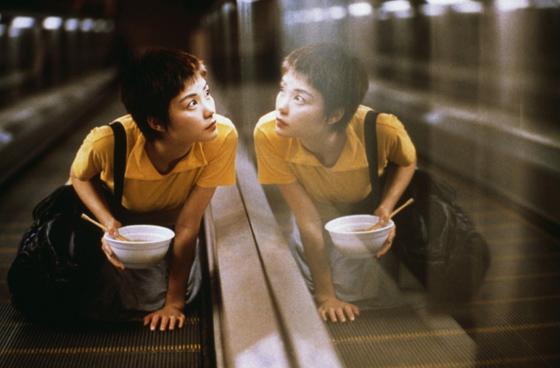 IMDB Summary :  Two love-struck cops is filmed in impressionistic splashes of motion and color. The first half deals with Cop 223, who has broken up with his girlfriend of five years. He purchases a tin of pineapples with an expiration date of May 1 each day for a month. By the end of that time, he feels that he will either be rejoined with his love or that it too will have expired forever. The second half shows Cop 663 dealing with his breakup with his flight attendant girlfriend. He talks to his apartment furnishings until he meets a new girl at a local lunch counter.
For a movie blogger that spent 3 years blogging, now I finally have seen Wong Kar-Wai's Chungking Express (1994). I've been introduced to this film by my own feature, My Movie Influence last year, and by my blogger friend, Jason. And previously I have seen Wong Kar-Wai's In The Mood For Love (2000), which was excellent to me.
Chungking Express is a contemporary love story in the 90s. During that time, Beverly Hills 90210 reached its popularity, Forest Gump probably have won every hearts, and girls with short hair was refreshingly modern (still is now). Perhaps it was also the time where love stories often tend to get very lame, and people was sick of it. At least for the young crowd. But then this story came and that's why people loved it so much.
This one's pretty contemporary, set in a busy Hong Kong city (nights most of the time). I loved how it used fractured movement of people moving around in the city. And with a clear opening line about the movie;
"Everyday we brush past so many other people. People we may never meet, or people who may become our close friends."
The two stories barely connected and the transition between two stories felt a bit rough. The first story's ending didn't feel like an ending, and suddenly the second story started. They do connect, but they never have been in the same frame together. What connects them was the snack bar and the snack bar owner. Did Wong Kar Wai intended to make love stories to happen randomly and instantly, just like that? Perhaps yes. Well, when anything else need calculation and logic, not with love. It's pure feelings.
It's become clear to me that Wong Kar Wai's expertise is to brought loneliness in his stories, in terms their search for love. The two cops are brokenhearted, but have their own way to deal with it. Both men and it stated that not only women who can mope around, feeling sentimental after being left with their boyfriends.
The grand story to me was in the second story, when Cop 663 met Faye, the girl in the snack bar. While sneaking in to the cop's apartment felt between adorable and freaky, admiring a guy secretly for a long time was a generic theme to Asian stories. But Wong Kar Wai managed to make it new and definitely not lame. What was more adorable was Tony Leung's charming and gentleman performance. It's rare to find a movie that can capture how random love struck can happen like this. The plot run unexpectedly to, lots of unexpected turn. Brigitte Lin was very convincing as a professional drug smuggler, no focus on her beauty at all with blonde wig and sunglasses. But the content felt more loose rather than In The Mood For Love, I think Wong Kar Wai more matured as a director in it.
For the movie's message, from what I get, is that once a relationship ends, you shouldn't take too much time to mope and cry about it. Once a door closes, means to open a new door. Sometimes it's closer than we think it is, out of expectation.
Chungking Express is one unique love story, recommended to people who avoid lame love stories. I don't mind hearing California Dreamin' from The Mamas and The Papas again (played over and over again by Faye in the movie). But I was fooled thinking that it's The Cranberries' Dreams played in it, I always love the song. Time to move on to another movie by Wong Kar Wai

Movie Score :