Hi guys. How was March for you? Me still busy being preggie lady. Trying to eat and cook healthy as me and hubby agreed that it's best to just have a home cooked meal. Day to day basis, I am in between busy being a wife, hungry-and-sleepy pregnant woman and a freelancer all at once. Sometimes it's exhausting but I feel blessed. Currently, I'm preparing to move to a new place. So much to do!
I am more active to blog mainly because I felt like it's a waste not to, but sadly one of my friend has decided to quit blogging. I always thought I am the one that should have been, even months before this, since I have a lot going on and there aren't much visitor here (why is that??). I can understand why some bloggers quit, sometimes they just do. I still wonder sometimes why I am here.
I can't promise I can be as active as before several months ahead, but I can tell you I still love blogging and channeling my voice. It doesn't matter where, I still have other blog to fill.
I didn't watch as much this month and didn't catch any classics or decades besides 2010s. Here's the recap :
45 Years (2015)

Mistress America (2015)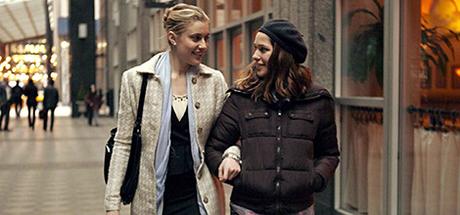 The Duff (2015)

Watching the promos, I can't help but scoff. So, here's another teen movie. It was quite happening in the '90s and I was one of the excited teens watching them. The Duff still have those usual popular and existency problems teen has, but now with a new label : The Duff, the less attractive person friends with attractive people like to ask for information. The leading girl surely show some potential teenage star, and I like that she can be casual with her popular neighbor who is considered a hunk at school. Reminded me of Drive Me Crazy style of friendship. But the rest was readable. Score : 6,5
Serena (2014)
I loved Susanne Bier's In A Better World (2010). Serena takes place in an older time and as a character is different from most women that time. She's got a certain leader and independent quality, with a dark past. I can see the beauty of the tragic story, but I was disappointed with the leading actors. Somehow the movie felt lack of depth, and the one to blame for me is Ms. Lawrence. She might nailed the role of a teen female hero, but she couldn't live up the roles that are more mature than her age. Though she can capture Serena's desperation and anger, she couldn't do much deeper that. Sometimes she looked as if she's posing rather than being real with the character. I can imagine other actress with wider range might've master the role more. Score : 6
Wildlike (2014)

Have never heard this movie before, but I am glad that I was able to catch this. It's about a teen girl escaped from home and follow an older man to the nature without he wanting to. We follow them as the story reveal why the girl escaped from home. I enjoyed the lovely nature scenery and the story of the two main characters. The story subtly made me sympathize with them both. The ending also a bit vague but showed a bit of happy ending, a great touch for me. Score : 7,5
About Alex (2014)

About Alex might be my favorite movie this month aside from 45 Years, because I love the cast. It's a story of a group of friend gather for support because one of them just try to attempt suicide. The combination of the characters just right and made me believe that they have been friends for long. And of course, there's old flame stories between them like Dawson's Creek style, but it felt casual. But not sure if I loved the ending. Score : 7
The Giver (2014)

Reading the differences from the book makes me want to read it. The cast was interesting; Katie Holmes, Meryl Streep, Jeff Bridges. The concept and the world described by the story also quite progressive and seeing the circumstances could happen in the future. I should watch it more closely as I was distracted, but the movie was something to see.
The Grand Seduction (2013)

It's funny how a small town or district would do anything to have a factory build for them to have jobs. To have it build, the town must at least have 200 people and a doctor. The fact is they can't fulfill that requirements so they manipulate it. As for the doctor, they have a young doctor (Taylor Kitsch) interested to do it but to really make sure he does it, they do all they can to make him stay. It was hilarious but it also provide a bit of a real drama of how the people desperately need job for the economy. The small town also looked homey and peaceful, with beautiful nature and background of hills and sea. Score : 7,5
*********
How was your March? And what movie you look forward in April?