So last weekend I did a little shopping because I wanted to get some stuff that I could use for my upcoming vacation.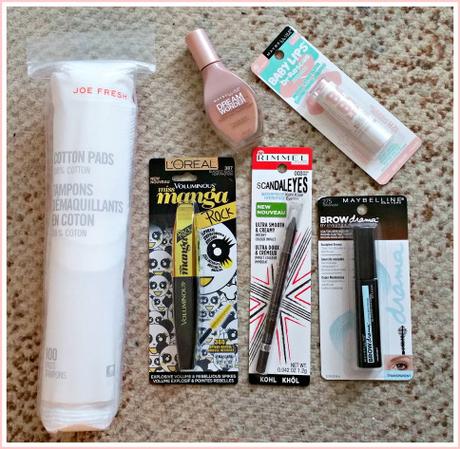 Here are the items that I bought from the drugstore:
❀ Maybelline Dream Wonder Touch Fluid Foundation 
I've been wanting to try this foundation for a while now because I know that it only has a sheer/light coverage, which is something that I like for a natural look. I think this suits those with normal to dry skin better, but I hope it works for me!
❀  L'Oreal Miss Manga Rock
I was supposed to try the original Miss Manga, but they came out with a new one and I like plastic wands better so I picked this one up. Unfortunately, there's no waterproof version of this :( 
❀ Rimmel Kohl Brown Eyeliner 
I'm thinking of starting using eyeliner again, but in brown.
❀ Maybelline Baby Lips Dr. Rescue in Just Peach
❀ Maybelline Brow Drama in Transparent
❀ Joe Fresh Cotton Pads
✽  ✽  ✽  ✽  ✽  ✽  ✽  ✽  ✽  ✽  ✽  ✽  ✽  ✽  ✽  ✽  ✽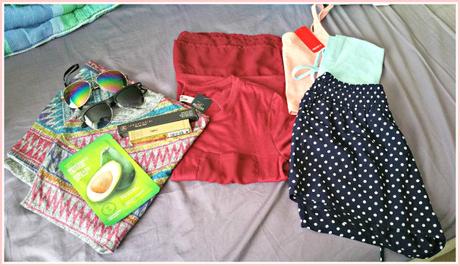 Here are the items that I bought at the mall:
❀ YSL Volupte Tint-in-Oil in Peach Me Love
OMG! I love the smell; it literally smells like peach! I'm planning on buying another one!
❀ Anastasia Beverly Hills Brow Wiz
I'm planning on buying the dip brow pomade next time since I'm used to using a brush instead of a pencil like this.
❀ Sheer Layer Pocket T-Shirt [Hollister]
I find this shirt cute since it has extensions at the bottom.
❀ Polka Dot Shorts [Forever 21]
Ugh! Why do denim shorts nowadays have to be so short?! It's hard to find shorts that's not going to show some bum!
❀ Cropped Tank x2 [Forever21]
❀ Loose Shirt [Forever21]
❀ Avocado Face Mask [Fruits & Passion]
❀ Sunglasses x2 [Spring] 
I like aviator-style sunglasses but I picked up the other one because it's cute and the sides are floral.
✽  ✽  ✽  ✽  ✽  ✽  ✽  ✽  ✽  ✽  ✽  ✽  ✽  ✽  ✽  ✽  ✽  
I forgot to buy a micellar water, but which one do you guys prefer? from Garnier or Simple?
and has anyone of you tried the Sephora waterproof eye make-up remover? Is it good?
Let me know. Thanks!