Posted by Emma @ Sweet Mabel on August 23, 2012 · Leave a Comment 
Over the weekend I caught up with a very good friend,  we went to Bakerie in Manchester city centre for lunch.  I highly recommend a visit if you're in the area.  The lime and chilli prawns on toast were amazing, expecially washed down with a cherry bellini.  I went Altrincham Vintage Market on Sunday and wandered around many beautiful stalls including Vintage Belle Candles where I treated myself to these gorgeous candles.  An outdoor 'Citronella and lemonade' and  a 'Bartlett pear.'  I'm so happy with them and it's good to know that when I've used them, I can take them back and get them refilled.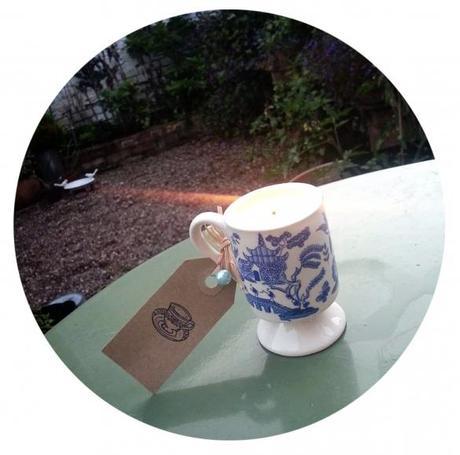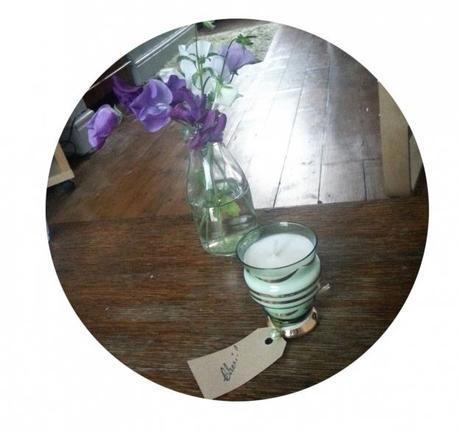 I also had a visit from my dad who brought along my new greenhouse that he made, do you like it?  I'm very pleased with it and can't wait to get back out in the garden and grow some new plants.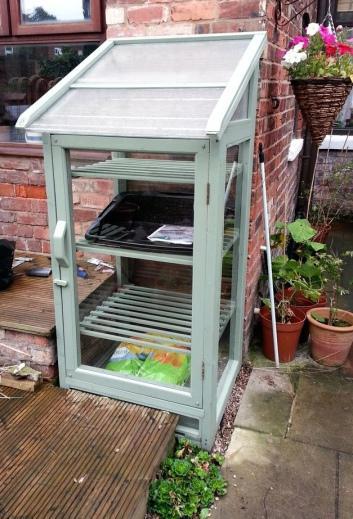 This weekend I was also given a rather nice Inspiring Blog Award from Roootreee Blog.  I'd like to thank her for this marvellous award, I love to hear from my readers and it's so nice to think that they find my blog inspiring.   She has a great blog and sells some wonderful hand painted kitchenwares in her shop too.  I urge you all to wander over and take a look.
So the rules of the Inspiring Blog Award are;
Thank the person who nominated you. (Already done)
Share 7 things about yourself.
 Nominate 15 other bloggers that you admire or inspire you. (Sorry but I'm only nominating 7)
Go leave a comment and let the people know you have nominated them.
7 things about myself;
1. I can't start the day without a cup of peppermint tea.
2. I get bored very easily and often have many projects on at the same time.  This keeps me very busy.
3. I'm going to Madrid in September for tapas and wine.
4. I love to cook and am capable of cooking all sorts of dishes but struggle to boil an egg.
5. I studied Fashion at University but dropped out after a year and a half, it wasn't for me.
6. I'm always happy when handed a glass of Prosecco (or Champagne if you're feeling extravagant) and a smoked salmon blini.
7.  I have a fetish for pretty stationery.
7 blogs that inspire me;
1. Lorna Love - Gorgeous blog with lots of beautiful ideas for crafting and baking.
2. Karistas Kitchen -  Full to the brim with tasty recipes and lovely photos too.
3. Tulle and Trinkets - a blog for fashion, food, DIY, and antiquing inspiration. Just lovely.
4. Smile and say hello - Twin sisters cataloging updates + daily inspirations, delightful.
5. The Patterned Plate - A passionate foodie blog full of mouth watering recipes.
6. Frugal Feeding - For delicious food on a budget.
7. Tea for Joy - This blog covers all areas, jam packed full of inspiration.