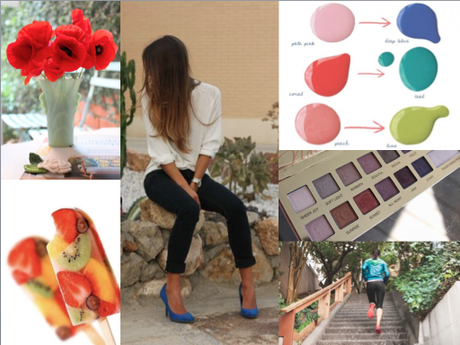 Hello & happy Saturday lovelies! What a gorgeous weekend we are having thus far- I'm loving the warmth in the air :) Today's quick post is to share my current "moodboard". These are things I am currently loving and being inspired by. 
Beautiful vibrant red poppies occupy a mint vase just perfectly.
Homemade fruit-cicles are on my list of things to try this spring & summer. Fill popsicle molds with your favorite fresh fruits and a favorite juice. I'm thinking I'll try coconut water. Freeze and enjoy! 
Blue suede heels have been on my radar for what seems like 6 months. While I fell for an SJP pair, they are simply of out of my price range. Finding the perfect [affordable] option is tough, but here is a great pair that I'm loving and will probably make their way into my closet.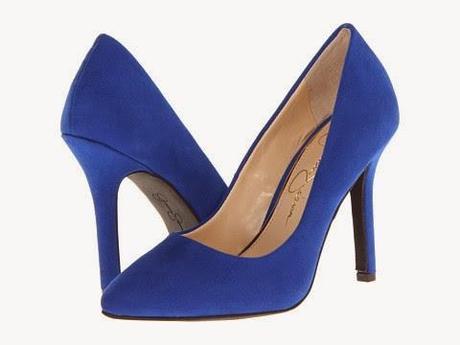 These spring nail and toe polish combos have me ready to bare my toes. I'm especially loving the coral/teal combo!
It Cosmetics launched a new palette [Naturally Pretty Vol. 1] that the YT world is going crazy over. Check out Tiffany's thoughts
here
. They swatch beautifully, and I can see myself using this all spring and summer. Versatile palettes are great for travel, which is great for me, as I plan to spend the majority of my summer at our lake house. 
As the warmer weather is on the horizon, I am itching to get outside and be active. I love my gym, but there is something about a nice run in the fresh air. [I have a 5K coming up in a couple weeks!] Another thing I am looking forward to is finding some great stairs in town to run. It's no LA climb, but I think it will work ;)
What are you all up to this weekend? Tonight my good friend Laura is hosting a murder mystery party... Sin City theme! 30+ people are on the guest list and the casted guest list sounds hilarious. Burke and I were given the roles of the Senator and Senator's socialite wife.  I've got bold lashes and red lips planned. Its bound to be a fun night! This is the reason I won't be attending the Iowa Blogger coffee date tomorrow :( Hope to see some of you there next month though!
Follow me on Instagram [@carrieberschman] for more fun pictures!
XO- Carrie