As you may know, I turned 40 at the beginning of October, and I am fortunate to have many wonderful friends and family who wanted to help me celebrate this milestone.  Months ago, before I had decided to throw a great party, my friend, Heidi, and I decided to get our group together for a girl's weekend at the
Cranwell
in Lenox, a beautiful hotel and spa.
We met up early last Saturday morning and carpooled to the Berkshires.  We stopped for a tea tasting at Harney & Sons tea shop in Millerton, NY and then had a light breakfast at Irving Farm Coffee House across the street.  Who knew I'd find a moist and delicious gluten-free vegan banana muffin there?
From there we continued our drive, stopping to shop and grab a late lunch at Aegean Breeze in Great Barrington, and then we checked in.  We quickly dropped our bags, grabbed our gym clothes, ear phones, and books and hit the gym!  Then, dressed in our robes and ready for the spa, we sat by the floor to ceiling windows at the indoor pool and then quietly gabbed in the "quiet room" until our luxurious treatments began.  I had the Decleor body scrub and detox wrap...OMG...decadent and relaxing seem hardly adequate descriptions!  And may I mention that we followed this up with a nosh of hummus and veggies, roasted almonds and a chilled bottle of Veuve Cliquot champagne?  Yeah, we know how to do this right!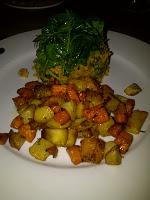 Both delicious and beautiful
For dinner we went to
Alta Wine Bar
in Lenox. "
With lunch and dinner menus offering a variety of local and organic ingredients, [their] inspired Mediterranean cuisine is always fresh. [Their] extensive wine list features selections from around the world, not to mention 24 delicious wines by the glass. At Alta, [they] pride [them]selves on providing not only delicious food and wine, but exceptional service as well."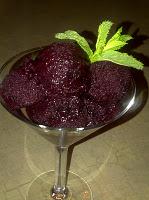 Incredibly decadent and
refreshing!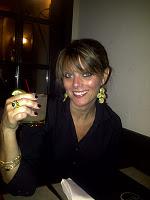 Well, they certainly met their hopes and our expectations.  I ordered my signature drink, The Tipsy Vegan (patron silver, on the rocks, lemon juice and just a splash of pineapple) and asked for a few of the sides to be plated together for an entree. 
They brought me the sweet and savory roasted root vegetables, flavorful sauteed spinach, and these yellow lentils that were simply cooked to  perfection!  For dessert, while my friends enjoyed a very gooey chocolatey non-vegan molten chocolate cake, I ordered the Ciao Bella blackberry cabernet sorbet.  Is it not gorgeous?  And it tasted even better than it looks!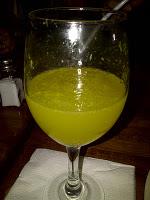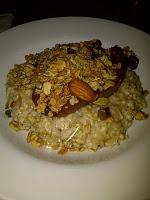 The next morning, after a beautiful walk in the woods and before hours of retail shopping "therapy", we ate hearty breakfasts at Haven .
I must admit it was not a cafe meant for vegans, but they did have soy milk for my coffee, fresh orange
juice for my mimosa, (though lets be clear, the champagne to oj ratio leaned far more toward the champagne side of things...) and water-cooked steel cut oatmeal topped with half of a poached pear and nutty granola.  It was wonderful!  And the service was terrific ~ just a fun and humorous bunch, perfect for a Sunday morning.
Hungry yet? Craving a fresh, tasty meal, a wonderful cocktail or a beautiful fall hike?  Now you know where to go and how to enjoy it all!