Hello dear readers,
I hope you're enjoying this breezy Sunday. It's starting to sink in that summer is on the way out and fall is fast approaching. I'm ready for fall especially with all the amazing clothes on display. J. Crew has me salivating for cords, sweaters and thick tights (more on that later). Hungry husband and I managed to spend some quality time together. Friday night, while searching for a restaurant, we found a Thai place in our neighbourhood. A serendipitous moment. I love Thai salads and this little gem of a place had some yummy options. Yesterday, we headed to my parents place for dinner - a Mediterranean fish night - followed by a dramedy called, "West is West." I pretty much cried the entire movie and had to endure the mockery of my family. "It's just a movie you know!" Thanks. Emotions don't exactly register that. Despite my puffy eyes, I love movie night with the fam. Today, glorious Sunday, we are taking it easy during the day and heading to a dinner party for my cousin who is back in town from medical school. Yesterday, I spent a few hours trying out some new recipes and made mini petit fours.... here is a sneak peak of what I'll be taking to the dinner party in honor of my cousin!
These are mini lemon cakes with fondant (clearly I need to do a cleaner job but for a first timer, not too shabby)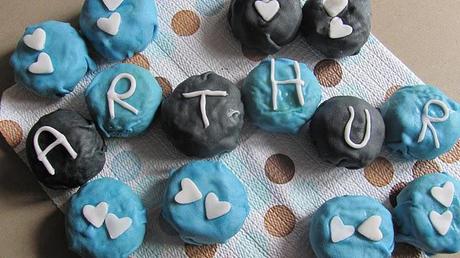 And now, let me share two really yummy recipes with you that I tried a few weeks ago. The first recipe is Tofu Fries. If you've been hesitant to try TOFU, this recipe is just for you. My parents aren't really into the tofu phenomenon and they really enjoyed this dish. All you need to do is buy extra firm tofu, cut into thick pieces (like french fries) marinate in sweet red chili sauce (you can find at your local supermarket - Thai section) and bake in the oven until golden and crispy.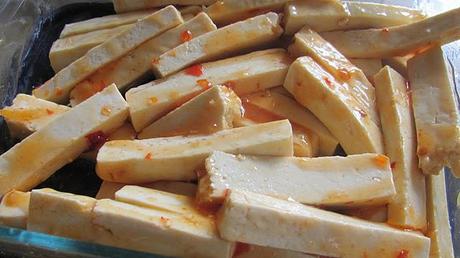 After you bake, it should look like this (I leave in the oven for an extra few minutes after I turn off the oven so it gets really crispy). They don't taste like potatoes so don't expect that but it is a great side dish or a snack.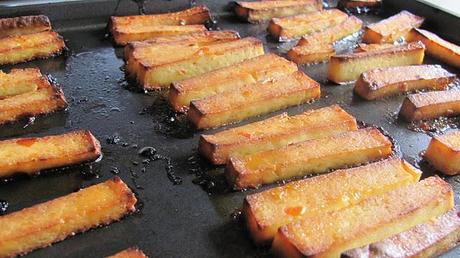 The second recipe I want to share with you is beyond simple. Hungry husband had a craving for butter chicken and I wanted to find a way to deliver the taste without the calories. So, instead of cooking pieces of chicken in the sauce, I flattened a whole chicken, rubbed some of the butter chicken sauce all over and roasted in the oven for an hour and a half (remember to add a bit of water in the pan). As a side, I sauteed some spinach and boiled potatoes with spices.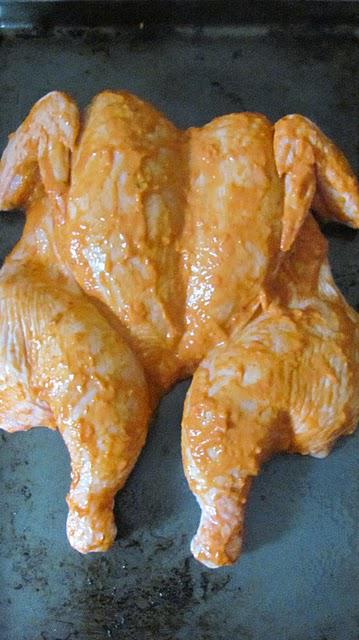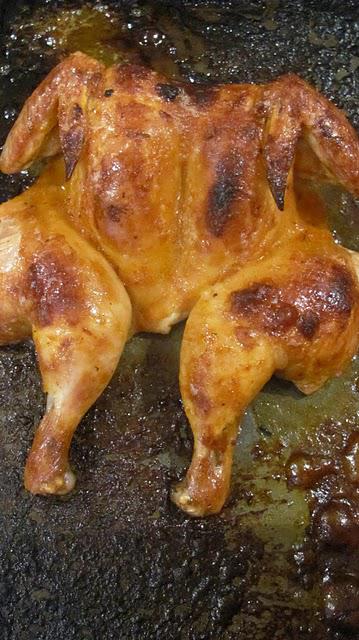 And voila... easy, breezy, beautiful.... roasted butter chicken with half the calories (I recommend you don't eat the skin)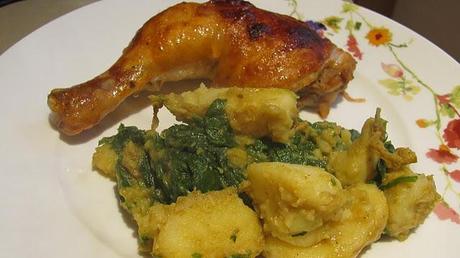 Hope these recipes inspire you to try new ways to deliver taste. Have a delightful Sunday. It looks like there is a Carole Lombard marathon on TCM and nothing beats a B&W movie marathon on a cozy, cool Sunday.
Enjoy!
Foodie Wife