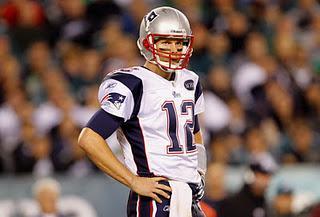 Photo: Getty Images
The NFL's Week 12 is in the books, and every week that advances we writers are hit with more surprises.  Whether it be the St. Louis Rams struggles, or the Green Bay Packers' run for perfection, there are many eyebrow raising situations in the NFL this season.
Troy Ballard and Adam Parker take on week 12 in the NFL, answering questions to the biggest games, injuries, and players. Guest columnist Kris Fletcher from The Bleacher Briefings also contributes in this week's edition.
10. The New York Jets, Despite an Impressive Division Win, Are Still Not Super Bowl Contenders
Troy: FACT - It's quite possible that New York saved their chance at making the playoffs with this latest win over Buffalo. But the way they won was nothing impressive. If Stevie Johnson didn't have the same play as LeBron James in the fourth quarter, the Bills could be the one paving their way to the playoffs. The Jets offense isn't good enough, and their defense has broken down in the past, and they just don't have what it takes.
Adam: FACT - 

I'm not a believer that this win improved the Jets' chances of making the playoff, let alone the Super Bowl. They played against a Bills' squad that's been gradually sinking into quicksand over the last few weeks. They also didn't have to contend with running back Fred Jackson, who is the centerpiece for Buffalo's offense. This win neither impresses nor surprises me. Lastly, it's hard to put the Jets in playoff talks with how inconsistent Mark Sanchez has been all season. 
Kris:
FACT - F
or one, I don't think they were all THAT impressive against an average Bills team to start with. Secondly, Mark Sanchez is still their starting quarterback, right? I rest my case.
9. The Atlanta Falcons Have Been Dead Quiet This Season, But They Are Still Super Bowl Caliber
Troy: FACT - The Falcons have been totally out of the spotlight with the Green Bay Packers and New Orleans Saints stealing all the spotlight in the NFC. But given that the Falcons are loaded with elite talent on both sides of the ball, I am not sure how anyone can write them off. That offense is nasty, and that defense is tough, and they can compete with the best.
Adam: FACT - 

True, they've been quiet, but they've been quietly getting the job done. Their defense is better than we think with John Abraham and Ray Edwards harassing opposing quarterbacks. Matt Ryan is hitting his grooves and has plenty of weapons to spread the ball around to. If they can somehow stop the juggernaut Packers in the playoffs, I have to give them the nod.
Kris:
FICTION - I 
picked the Falcons to go to the Super Bowl this season, but at this point, I don't think there's any way they can get past Green Bay or New Orleans come playoff time. Or even San Francisco for that matter.
8. The Indianapolis Colts Will Win at Least One Game This Season
Troy: FICTION - This team is worse than the 0-16 Detroit Lions four years ago. I don't see how Indy will be able to win any games, especially considering they have a tough remaining schedule. About the only chance they have is if a playoff team starts all of their back-ups, and even then a win would be a stretch.
Adam: FICTION - 

There's no way they win a game, especially this season, without a healthy Peyton Manning under center for them. Curtis Painter may have went to the same college (Purdue) NFL quarterbacks to come out of Purdue like Drew Brees and Kyle Orton, but I don't see him ever being able to play as well as either of them. The Colts fans would be better off sleeping away the rest of the season and waking up around April for the draft when Indy is expected to select Andrew Luck. Hang on Indianapolis, the nightmare is almost over.
Kris:
FICTION - 
They've shown me NOTHING that would lead me to believe they'll win a single game. They're terrible on offense, defense and special teams. That equals a big fat goose egg in the wins column.
7. There Will Be a Coaching Change in Tampa Bay Following This Season
Troy: FICTION - Tampa Bay has looked bad this season, and Raheem Morris must be feeling the hot seat. There is no question that expectations were high for the young team, and I think this is just the growing pains everyone was talking about. I'm thinking Morris will have one more chance next season and that's it.  
Adam: FICTION - 

This team is too young and too talented to give up on Raheem Morris just yet. I could easily see them bouncing back next year and Morris retaining his job for many years to come. But even if they dont, he'll at least have another season or two to turn things around.
Kris:
FICTION - 
While the Bucs have definitely been a disappointment this year, I think overall Raheem Morris has done a fairly good job given the state of the team when he got there. He'll be back next season, but if the team continues to struggle, he won't be back for 2013.
6. Aaron Rodgers Has The NFL MVP Award Locked Down
Troy: FACT - Anyone who has watched Aaron Rodgers play knows this is a given. The dude can throw, he can run, he can do lame State Farm commercials. There is really nothing he can't do. Did I forget to mention that his team is undefeated?
Adam: FACT - 

This is probably the most clear-cut race for MVP that I can ever remember. Rodgers had this locked up by week eight of the season in my opinion. The guy is playing on a completely different level than everyone else. He destroys every defense thrown at him, and is even successful without a traditional running game because he can pick up the slack on the ground himself. I'm 100% certain that Aaron has already cleared some space on his mantelpiece for the trophy, but if he somehow hasn't; that's something he should definitely take care of as soon as possible because his chances of winning the thing have gone from possible to probable to inevitable. 
Kris:
FICTION - 
A few weeks ago, this was a cold hard fact. However, if the Packers slip up and lose in the next month, Tom Brady could still end up defending his title. Look who New England plays the rest of the way. Brady's numbers are going to be off the charts for the next three - four weeks. Ask the Eagles.
5. Following an Overtime Win, Tim Tebow and The Denver Broncos Are Legit 
Troy: FACT - It really doesn't make any sense how Tim Tebow is leading this team to wins, but it is happening. The Tebow experiment in Denver is working, and I don't think that the Broncos who are (5-1) in their last six games can be questioned.
Adam: FACT - 

I'll meet halfway on this. I'll say that Denver and Tebow are legit, but only for this season. I'm still sticking to my guns that the option attack can't work consistently over multiple seasons. Tebow's clutch is unquestionable now, but with the amount of film teams will have access to next season, I see the honeymoon ending in 2012. Not to mention, Tebow faced almost no pressure from the Chargers' pass rush, giving him more time than necessary to make the right play with the ball, despite his unorthodox release. 
Kris:
FICTION - 
If by "legit" you mean, in the hunt for the division, than sure, they've got a shot. As far as the Super Bowl goes, they've got about as good a chance as San Diego, Buffalo, and Philadelphia do of still making the playoffs. As in, little to none. 
4. The Chicago Bears Are Eliminated From The Playoffs With Caleb Hanie as Their Starter
Troy: FICTION - The Bears looked really bad last week against the Raiders with Caleb Hanie as the team's starter. But I really don't believe that this is the end of Chicago's season. For a first career start, there was a lot of pressure on the kid. I'm think this team can still win games.
Adam: FACT - 

Despite the stellar play from their defense led by Julius Peppers and Brian Urlacher, their offense is just too handcuffed without Cutler. Hanie is a serviceable player, but he can't make the big plays that the Bears need to win.
Kris: FICTION - 
Chicago can still get in, mainly because I think the Lions are in the beginnings of what will end up being a free-fall. Thank that nut-job Ndamukong Suh and your "I'm playing like I'm a rookie all over again" quarterback Detroit fans.
3. Andy Reid Will Be The Head Coach in Philadelphia Until The End of The Season
Troy: FICTION - After last week against the Patriots? Not a chance. The Eagles were embarrassed at home, and the fan base and players have totally turned on Andy Reid. It's tough as someone who has supported him adamantly for 12 years, but he needs to get out ASAP.
Adam: FACT - 

It doesn't make sense to let him walk in the middle of the season. Sure the fickle Philly fans will be happy, but what will it really accomplish from an organizational standpoint for the rest of this season? He may be let go after the season, but there's no way Philadelphia fires him with games still left to be played.
Kris: FACT - 
But only because at this point, what good would it do to fire him mid-season? They're already dead in the water, and considering what the man has done for the organization during his tenure there, the least they can do is let him finish the year out.
2. Tom Brady and The New England Patriots Are Now The Clear-Cut Favorite in The AFC
Troy: FACT - New England looked sharp against Philadelphia. They flexed their offensive muscle with Tom Brady and the defense was just about average. But when the Patriots have Brady throwing for 300 and three touchdowns a game, they don't need a defense.
Adam: FACT - 

The Patriots' utter destruction of the Philadelphia Eagles, the Steelers not playing up to their abilities against a bad Chiefs team, and the Ravens' inconsistencies this season make this true. And apparently, it doesn't matter who Bill Belichick throws out there on defense, because as long as Tom Brady is your quarterback, you'll most likely just out score the other team anyway.
Kris: FACT - 
The Patriots are going to spend the next month destroying lesser teams, so their overall team confidence will be through the roof by the time the playoffs get here. Pittsburgh struggled against Kansas City of all teams, Baltimore is too inconsistent on both sides of the ball at times, and Houston is down to like their seventh-string quarterback. Besides, is anyone actually willing to bet AGAINST Tom Brady? If so, put me down for $100.
1. The St. Louis Rams and Sam Bradford Are The Biggest Disappointment This Season
Troy: FICTION - As bad as St. Louis has been, and as high of expectations as they had, I can't give it to the Rams. I has to be Philadelphia. It was Super Bowl or bust, and the Eagles didn't just bust, but they totally exploded.
Adam: FACT - 

Considering they were my clear-cut choice to run away with the NFC West and that Sam Bradford was coming off a stellar rookie season that garnered Rookie of the Year honors, they have been a terrible disappointment. Apparently, running back Steven Jackson is the only offensive player that can be counted on from year to year, and if he doesn't get any help, the Rams are doomed to fail.
Kris: FICTION - 
They had a losing record last season, so I don't really see how they can qualify as THAT disappointing. Now, Philadelphia on the other hand...
Be sure to follow Beard and Stache on Twitter 
@BeardAndStache
, and also Troy 
@TroyBallards
 and Adam 
@Adam_Parker43
, Like our Facebook page HERE!