"If you are kind people may accuse you of selfish, ulterior motives. Be kind anyway." ~
Mother Teresa
NOTE: I spend my Wednesdays Unplugged from appointments. It's my day to stay home, enjoy cooking and welcome our kids and grandkids for dinner in the evening. We end our meal with quotes from the Norwegian 'Quote Cup' passed on to me from my grandmother. I share a quote and a recipe here each week, and sometimes some photos of family fun. I love trying new recipes...and love getting recipes you would like to share!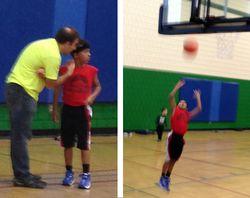 It's basketball season and our schedules finally worked out to make it to our grandson's game on Saturday. This wasn't the week when he made the winning basket in the last few seconds of the game but he always puts his all into the game. I am impressed with how much he is a team player... usually more intent on passing the ball to someone who has a good shot rather than rushing in to make the basket himself. However, I found out after the game that when the coach pulled him aside to talk to him towards the end of the game he was telling him to just go for it and take the ball to the basket... could see the fire in his eyes as he did exactly that!
RECIPE OF THE WEEK
We had 'brinner' last week (breakfast for dinner) and I wanted some breakfast potatoes. I ended up cubing red bakers and a garnet sweet potato I had on hand, which I mixed together and roasted to make a delicious potato medley. I roasted the potatoes earlier in the day and planned to crisp them when warming up later with the rest of the meal... they got warm but not crisp. Next time I would allow a little more time to make them crustier but they were still good, simply tender and delicious. Peeled them because of the size of the potatoes, but with smaller ones would leave skins on.
ROASTED POTATO MEDLEY
4 red potatoes, baking size
1 garnet sweet potato
1 tablespoon olive oil
1 tablespoon seasoned salt or other favorite seasoning
OR mix together...

2 teaspoons black pepper
2 teaspoons cayenne pepper
1 teaspoon cumin
1 teaspooon paprika
2 teaspoons garlic salt
Preheat oven to 450 degrees F. Peel potatoes if desired and cut into small cubes. Transfer potatoes to large bowl, toss with olive oil to coat. Sprinkle with spices and toss to coat evenly. Arrange potatoes on jelly roll pan. Cook for 20-25 minutes or longer, to desired crispness.
Sharlene Hensrud, RE/MAX Results - Email - Minneapolis Realtor Who Cooks