"Hear: the doors we open for each other all day, saying: hello, shalom, buon giorno, howdy, namaste, or buenos dias in the language my mother taught me - in every language spoken into one wind carrying our lives without prejudice." ~
from Richard Blanco's inaugural poem
NOTE: I spend my
Wednesdays Unplugged from appointments. It's my day to stay home, enjoy cooking and welcome our kids and grandkids for dinner in the evening. We end our meal with quotes from the Norwegian 'Quote Cup' passed on to me from my grandmother. I share a quote and a recipe here each week, and sometimes some photos of family fun. I love trying new recipes...and love getting recipes you would like to share.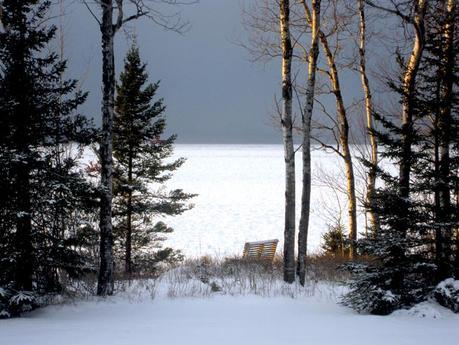 We are spending this week on retreat/vacation up on Bark Point on Lake Superior. With subzero temperatures and wind chills in the -20 degree range, we are happy to cozy up by the fire inside and gaze out on the frozen landscape. I love how the colors change throughout the day, even more dramatic in the winter when the absence of foliage expands views and snow reflects light in ways never seen in summer.
RECIPE OF THE WEEK
This week's recipe was one I saved from the Star Tribune last fall and finally made a couple weeks ago. It is definitely a keeper!  I think I will double it next time. How serendipitous that it came from Michelle Gayer of Salty Tart in Midtown Global Market, the bakery that makes the buns for Safari restaurant featured last Sunday!
ROASTED CAULIFLOWER with Parmesan
1 medium head cauliflower
2 tablespoons olive oil
Salt and freshly ground black pepper
Grated Parmesan cheese
Preheat oven to 450 degrees F and line a large baking sheet or jelly roll pan with parchment paper.
Remove the outer leaves of the cauliflower and cut the stemoff so it sits flat on a cutting board. Slice the cauliflower head into slices 1/2 inch thick. The outside slices will fall off into pieces: remove the stem from the larger middle slices. Discard the stems and place the flowerets on the prepared baking sheet.
Drizzle slices with olive oil and season lightly with salt and pepper. Gently toss to coat. Place in the oven and roast for 10-15 minutes or until lightly browned. Remove tray from the oven, sprinkle with Parmesan, toss and serve.
Sharlene Hensrud, RE/MAX Results - Email - Minneapolis Realtor Who Cooks
RELATED POSTS