NOTE: I spend my Wednesdays Unplugged from appointments. It's my day to stay home, enjoy cooking and welcome our kids and grandkids for dinner in the evening. We end our meal with quotes from the Norwegian 'Quote Cup' passed on to me from my grandmother. I share a quote and a recipe here each week, and sometimes some photos of family fun. I love trying new recipes...and love getting recipes you would like to share!
"Even if something is left undone, everyone must take time to sit still and watch the leaves turn." ~ Elizabeth Lawrence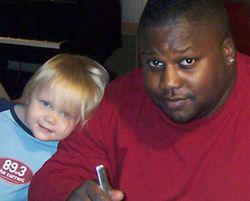 The leaves are starting to turn and we have had a string of beautiful crisp, fall days. Today sounds it will feel more like summer again... it is supposed get close to 80 degrees! Kennedy is playing volleyball this season, went to her first game yesterday after she was just moved up to the A squad! Love this photo from last week of Sina snuggling up to her 'Uncle Nee-K!'
RECIPE OF THE WEEK
The basics of this recipe for squash soup came from Chef Kris Koch at the Grand Hotel Minneapolis. His recipe called for Kabocha squash, but I didn't find any where I was shopping so picked up butternut squash instead. I wondered about the flavor with the curry powder but it was fantastic... loved the soup! After mixing it I put it in a crockpot to warm. I like a fairly thick soup, didn't use all the chicken stock or cream.
ROASTED BUTTERNUT SQUASH SOUP
1 large or 2 small butternut squash

1 cup sweet onion, diced
1 tablespoon minced garlic
1/2 tablespoon curry powder
1 quart chicken stock
1/2 cup heavy cream (optional)
1 tablespoon apple cider vinegar
Cut squash in half, scoop out seeds. Season with olive oil, salt and pepper and roast face down on a sheet tray at 350 degrees F until tender, about 1 hour. When cooled enough to handle, scoop out the flesh and put into a food processor.
Saute onions and garlic in a little olive oil until onion is transluscent. Add curry powder and cook 1-2 minutes. Add to squash in food processor and blend.
Add half the stock and half the cream and blend until smooth, adding until you reach desired consistency. Add apple cider vinegar and salt and pepper to taste. Warm on the stove or in a crock pot.
Sharlene Hensrud, RE/MAX Results - Email - HomesMSP.com