Holiday essentials wishlist…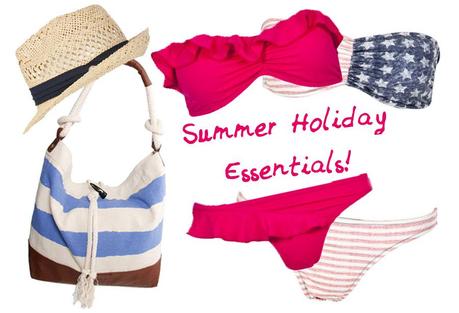 Time to shop for summer holiday essentials! With all this lovely weather we are having at the moment, there's no wonder we are already thinking about our summer wardrobe and what we can take away on our summer holidays.  Whether you are staying within the UK or flying off abroad to somewhere a bit more exotic, there's no doubt that you'll want to shop for all your summer holiday essentials as soon as possible! Shopping for beach getaways and girly travels is super, super exciting and Republic's summer holiday essentials will get you in the spirit of it all. Here are some of my favourites: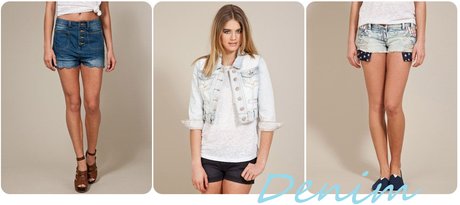 Holiday Essentials for the Summer
Firstly, no holiday wardrobe is complete without some denim holiday essentials, and shorts are your friend when you go away on holiday; they can be worn in the day when going to the beach or sightseeing, then glammed up in the evening with heels and a nice top.  I love the Miso Scallop Hem high waisted shorts too as they are high waisted making them very flattering and the scallop hem is just adorable (and sooo on trend).
SS12 holiday essentials just wouldn't be complete without a bit of distressed denim either, so the Soul Cal Deluxe Stars & Stripes hotpants would be a perfect addition – I'm loving the stars & stripes pocket detailing! Finally we all need a denim jacket in our lives and I love this Soul Cal Deluxe Ditzy denim jacket. It's all in the details and the ditzy print turn ups on this jacket are so cute! So already, we have some fantastic summer holiday essentials to get you started on building that perfect holiday wardrobe.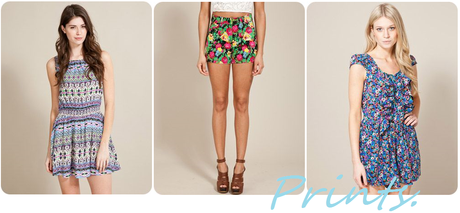 Holiday Essentials – On Trend for SS12
Prints are big this summer, whether they're  Aztec, floral, polka dot or nautical.  They look amazing and make you feel totally summery when they adorn your clothing! And of course, dresses are absolute holiday essentials;  just like shorts they can be worn both in the day and at night.  I just love the  print on this Miso Scoop back dress – it's so fun and bright!  Speaking of shorts, we couldn't leave out these amazing Miso Floral Shorts. Love the colours, love the print. LOVE EVERYTHING! This Lipsy Ruffle Play suit is the perfect summer playsuit and the cute ditsy floral print is so feminine and pretty. Dress it up in the evening with a pair of wedges and over-sized clutch! But there's more to the complete holiday essentials capsule collection.
Now how you can you holiday without a selection of gorgeou bikinis?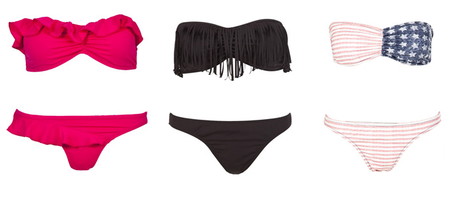 Bikinis are a must for your suitcase of holiday essentias, and here at Republic we have some great styles to choose from. My personal faves are the Miso Assymetric frill bikini. , the Crafted Tassle Bikini and the Soul Cal Deluxe Flag Bandeau bikini.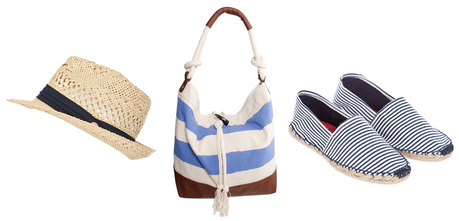 And finally you can't forget about your accessories when building the ultimate holiday wardrobe.  Sun protection is very important so you should wear a hat while out in the nice weather – thankfully, Soul Cal Deluxe Deluxe has brought us this very on trend Trilby Hat. to keep us looking stylish while protected. You'll need a beach bag to carry all your belongings with you and I find that bigger is better, so this Soul Cal Deluxe Stripe tote bag would be perfect.  A great nautical bag with loads of room! It could even be used as your hand luggage bag! Some people like wedges, others like flip flops – now I like the espadrille, comfy and practical.

So there we have it.  All the summer holiday essentials from accessories and beach bikinis to summer dresses and cool jackets.  Don't you just love summer?
Hope you're all looking forward to your summer, and I hope that's given you some ideas of what you could add to your holiday wardrobe from Republic! Browse the Sun Shop for plenty more summer treats!
Feel free to comment below if you want any help or advice on choosing your holiday essentials!
Leanne