Dipped hem skirts and dipped hem dresses galore….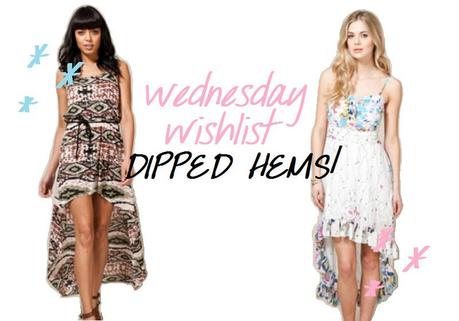 Have you seen the new dipped hem dresses and skirts yet? Forget the mini, forget the maxi…..the hem line you need in your wardrobe is a combination of the two….
Dipped hem dresses and dipped hem skirts, or 'mullet style' as some people like to call them are becoming more and more popular this season. A skirt/dress that covers but also exposes your perfect pins! Short at the front, longer at the back. They are femimine and girly but with an edge and I like that! At republic we have a lovely selection from pretty pastels to bold prints. Something for everyone.
Take a look at our selection of gorgeous dipped hem dresses and dipped hem skirts now…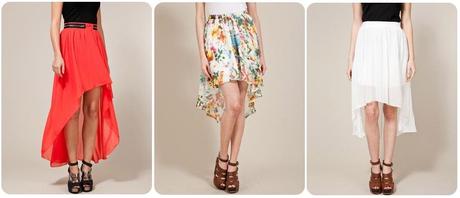 If you're brave, love color blocking and want to cling on the comfort of a maxi skirt  then you should try the Crafted Zip Mullet Skirt; a lovely bright orange skirt which can be worn throughout the spring and summer. Perfect for adding that 'pop' to an outfit, especially come festival season! The back half is just as long as your trusted maxi dress but you've got all the excitement of a shorter hem at the front! This style for those really wanting to make an impact with the dipped hem skirt trend.
If you want to dabble with the trend but want to introduce it into your wardrobe more subtly, then the Miso Dipped hem skirts in Floral Print or White may be more suited to you. The back hem is more knee length making the difference between the two less obvious but still gives you that wow factor. But before you know it, you'll fall head over heels in love with the stunning array of dipped hem skirts and dipped hem dresses out there, and you'll want to own every one!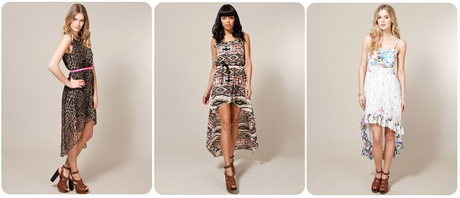 If you want the head-to-toe impact in this trend, then how about checking out our dipped hem dresses? This gorgeous Miso Leopard print dipped hem maxi is great for a night out, the neon belt (included) adds the perfect bit of colour, the open back detailing adds something special, and it would look simply fabulous with a blazer and killer heels. Dipped hem dresses are also very versatile for daytime and night time transformations!  You can look lovely at a summer barbeque, meet the girls for afternoon cocktails, or be wined and dined looking fab in dipped hem.
Thinking ahead for the festival season (there's no such thing as being too prepared) this Crafted Mullet maxi dress would be just ideal.  It's got a fab tribal print which would look perfect with your gladiator sandals, tan satchel, aviators and straw hat dancing away in a field to the bands you love at a music festival this summer!

Finally, the last pick of the day in dipped hem dresses – isn't the Angel eyes dipped hem maxi dress the most prettiest dress you have ever seen?  This screams summer wedding/christening/garden party. Its just gorgeous! I love it and need it in my wardrobe now!
Will you be dipping your toes in the dipped hem dresses and dipped hem skirts trend this spring/summer? If you are already rocking dipped hem skirts and dresses, let us know in the comments!

Leanne
Blogger