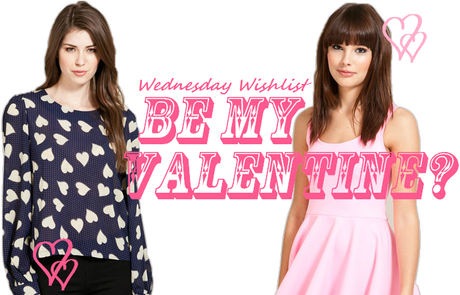 So it's February so you know what is just around the corner.. Valentines day. Now some may celebrate it, some may not but theres no reason why you shouldnt dress up for this special day!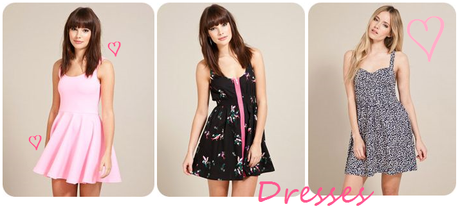 If you're wanting to go all out and wear pink on the day, I highly suggest getting the Miso Fit to Flare Scuba Dress. It has the flattering skater dress shape that everyone loves and is in this gorgeous pale pastel pink! What more could you want? There may be some girls out there that want to wear pink but would prefer to do it a bit more subtly! In which case the Miso Bird Print Dress would be perfect. Not only does it have that splash of pink down the center, its covered in a cute bird print for the ultimate girls girl!  And for those of you that want to celebrate valentines with something heart themed but dont want to scream 'Hiya its valentines' then this Soul Cal Deluxe Bella Heart Dress may be for you. It's a lovely navy shade with tiny little hearts and vines all over it. The perfect day dress to wear on the 14th!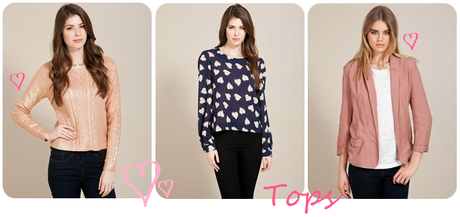 Metallic jumpers are a great way to keep warm , afterall it still the winter! This pale pink Crafted Metallic Jumper would be a good sparkly addition to your valentines festivities if youre keeping it a casual day. Whether you'll be having a quiet night in, going out to the cinema, or even having some of the girls around for a girly pampering. Paired with blue skinnys it will look fab! Just like the dresses mentioned above, you may want to be a bit bolder with your clothing choices on the day, so why not get the Glamorous heart blouse. . The heart print pattern is lovely, a great valentines blouse to wear on the day but also versitile enough to wear all year around. After V.day is over I'd definitely be wearing this to work! And finally we have this Crafted Blazer Blazers are an item every girl needs in her wardrobe and this blush color is no exception. A great way to smarten up your date night outfit with your guy! Pair with black skinny jeans, a white shirt and some killer heels and you'll be sure to make his jaw drop!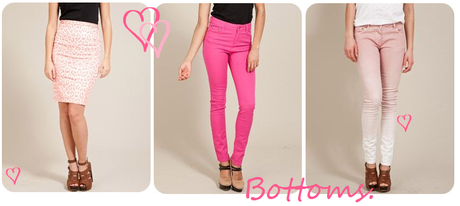 Firstly hello pretty skirt! This gorgeous pastel pink Miso Leopard Tube Skirt would be perfect for valentines if going on a nice night out. Leopard print could be a bit garish for some, so pair it with a nice black sheer shirt, blazer and black heels to keep it quite sophisticated looking! If you're a very brave lady and want to go all out with the valentines theme then you should pick up these Miso Colour Skinny Jeans. in bright fuscia pink! How bright are these! I'd pair them with either a nice floaty shirt or a pretty sequin number. If you're going for bright jeans you may as well go all out! Then for the girlies out there that want to be in on the pastel trend but stick to your trusty skinnies, the Crafted Dip Dye Skinny Jeans. are just for you. I love the dip dye loo of these jeans, so subtle but also very fashion forward! Love them!  
So there you go, my top valentines picks for you to all rock on the 14th of Feb! What will you be wearing? Let us know in the comments!

Leanne x