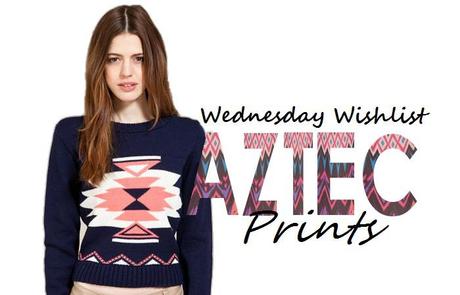 In the winter months a lot of the time I dress in quite dark colours, plain fabrics…nothing too interesting. I think it's the weather – it has an effect on my wardrobe! However I have been thinking and I want to liven up my wardrobe a bit with a splash of color and what better way to do so than to take on the Aztec print trend? the Aztec print trend was big in the summer of 2011 and will continue to be big throughout 2012. Republic have a fair few items on offer, so here are my top picks!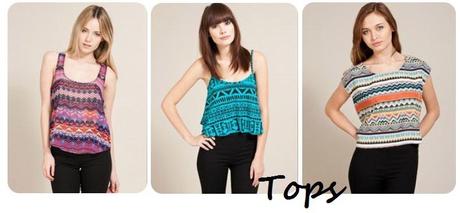 Vest Top | Camisole | T-Shirt.
For the days where I just want to add that splash of colour, these Aztec tops from Miso would be perfect. All lightweight and flattering they would be great to just throw on with a pair of black skinny jeans or leggings. The great thing about the Aztec print is that you can wear it day or night. For example, swap your flats for some heels and grab a nice clutch bag, pair with a fitted blazer and you would be ready to hit the town! Very versatile pieces!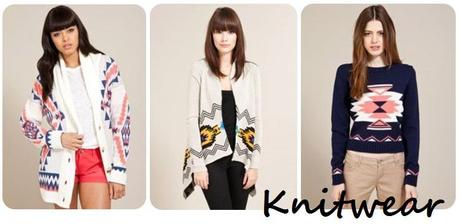 Soul Cal Deluxe Aztec Cardigan | Miso Aztec Cardigan | Soul Cal Deluxe Aztec Jumper.
If you are feeling the cold still then maybe some knitwear would be best for you. Both Soul Cal and Miso have got a lovely range of Aztec print themed knitwear for you to buy. The Cardigans incorporate the lighter colours for the slow transition to spring!  The Soul Cal Cardigan is what I would like to call a 'weekend' cardi. Perfect for chilling out on the sofa keeping you warm. The Miso cardigan has a more fitted shape, so could be a nice addition if you were going out for a meal and wanted to keep the shivers at bay! However, leaving my favorite 'til last, I just love the motif on this dark blue jumper! I suspect a cheeky purchase will be made on pay day!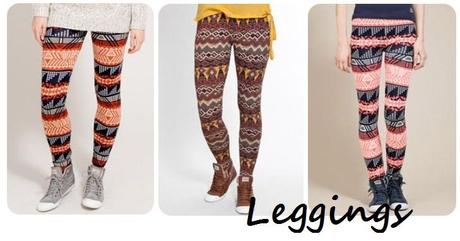 1 | 2 | 3
Not forgetting our bottom halves of course…For those that have the confidence to pull them off, we have a great selection of aztec print leggings from Soul Cal to suit your every need. With these leggings I always think it's best to keep the rest of your outfit quite plain and simple. That then means all the focus is on the amazing print all over your legs!
So that's it for this weeks Wednesday wishlist. Leave a comment if you too are loving the Aztec trend. What are your must have items?

Leanne x
- Blogger-