Beauty Tip of the Week
---
*THE SECRET TO A PERFECT BLOWOUT*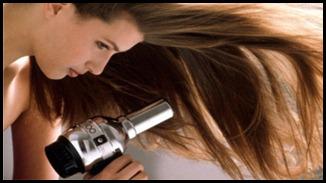 There's more than one secret to a perfect blowout but there's an important one that I just recently learned about and it makes a lot of sense. Start with your fingers when your ready to start blow drying your hair. Pull your fingers through hair starting at the roots and pull hair out a few inches and hold it while you use the blow dryer to shoot air at the crown. Try to hold your hair super taut.
A brush can only get so close in so hold your hair super taut while doing this otherwise moisture will stay in the hair shaft and it will frizz up. It's very important to make sure your roots are dry first before going on to the rest of your hair.
*Another great tip is to lock in style with the "cool button" on your blow dryer. If you blow dry your hair in sections like I do, once each section is completely dry, pull hair taut with your brush and blast it with the cool button on your dryer. Finish each section like this and the cool air will lock in shine and smoothness.
Do you guys have any blow drying tips when it comes to your hair?  Please share!!!