Monday Beauties Blog Hop May 6
 2013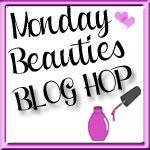 Hello Beauty Lovers and Bloggers! :) Welcome back to Monday Beauties blog hop! Where I hope to create a place where bloggers can come together and share their links in a friendly and supportive manner! If you are saying "What the hell is a blog hop?" just click here and it will explain EVERYTHING:)
Now let's get to business: Here are the very simple rules:
1. Subscribe to my blog via GFC and leave a comment below to let me know you are following (with your link) so I can follow back :) Click here to follow :)
2. Add your blog URL to the Linky Below! (make sure to include http://www.)
3. Check out as many blogs as you want and if you decide to follow leave a comment letting them know that you have subscribed and found them on Monday Beauties Blog hop! :)
4. Check out the featured blogs! :)
OPTIONAL If you want to be really nice to me! :)
♥ Grab the blog hop button and place it somewhere on your blog or in a blog post. (

remember

 you will need to re-enter your blog every week, so you can make this a weekly post). You can grab the blog button from the sidebar of my blog.
♥ Follow me on Twitter and like my Facebook page :)
**I will choose 2 blogs each week via Random.org(random number generator) and mention them in the next weekly hop as "Featured blogs"


Thanks so much for 

participating

! :) 

Let's

 Begin
Featured Blogs:
Visit Diary of a Trendaholic!!

Visit Mrs Beauty Junkie!!