Beauty Tip of the Week

Yesterday I went to use my Hot Tools Curling Iron that I've had for about a year now and couldn't believe how gross it was. You could just see all the hairspray and other hair products built up. 

Yuk! Just look at this scary picture....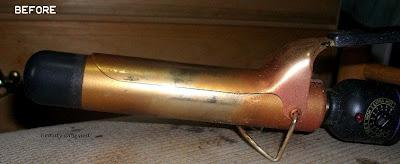 I obviously needed to clean it and after realizing how disgusting it was I couldn't imagine letting it touch my clean hair. There are a few different ways you can do this. 
Rubbing Alcohol: Turn your curling iron on for a few seconds to warm it up, it's easier to clean if it's warm. Then unplug your iron,  But make sure the ron is not too warm that it would hurt your fingers and dip a cloth in rubbing alcohol and start scrubbing the plates of the curling iron. Depending on how dirty yours is you might have to do this a few times to get it clean. After it's clean, dry it off with a clean cloth to avoid rust stains. 91% Isopropyl Rubbing Alcohol works better than 70% because the concentration is higher. 
Oven Cleaner: If it's been a while since you cleaned it or never have, you might need something stronger like Oven Cleaner. Again, plug your curling iron in for a few seconds to warm up. Then unplug and place your iron on a surface that wont be affected by the oven cleaner. Make sure to wrap the cord and the plastic handle in a rag or towel so you don't ruin it. Spray the barrel with the oven cleaner and let it sit for 15 or 20 minutes. Then wipe it off with a damp towel and make sure it's clean.
I used the alcohol method this time but I think I needed oven cleaner to get it 100% clean. I'm happy with how much cleaner it is now though.  At least I won't be grossed out using it my hair.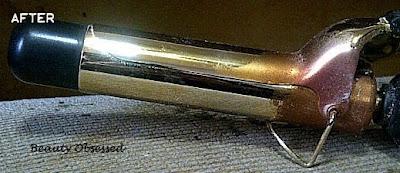 If you can remember, wipe your curling iron with some alcohol (or alcohol wipes) after you finish using it each time or every other time. That will you will get off any hair products that might have adhered to your iron during use. 
How many of you are guilty of letting your curling irons get really gross? What method do you use to clean your curling or flat irons?
Click the links below :) Follow via GFC Follow me on Twitter