Earlier this month, bridal fashion week took NYC by storm for its bi-annual flurry of gorgeous gowns showcased by designers. Several trends emerged, not the least of which was a may-jor backlash from Princess Kate's royal wedding! That's right, the heyday of Sarah Burton's classically inspired gown has somewhat died down, and unconventional colors (black at Vera Wang) along with super sexy slits ruled the aisle/runways.
But, one of RLJ's favorite trends from bridal fashion week has to be the resurgence of color for bridesmaids' gowns. Bridesmaids dresses will be getting a bright infusion in the next coming months, and while we still love the neutral bridesmaid dress trend, today we're green with envy. These gorgeous gals look resplendent in all shades of green, and the bride's wedding fashion is right on trend.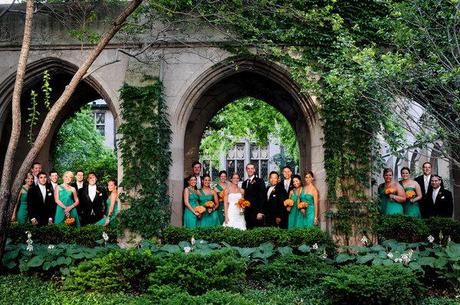 Kara Pearson Photography via Style Me Pretty
This bridal party is a double infusion of modernity; the emerald green gowns are a flattering jewel tone, while the one-shouldered top and cocktail length make this a bridesmaid dress that these ladies will actually wear again.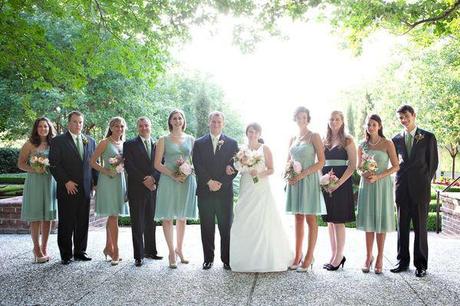 Denise Gonsales Photography via Stlye me Pretty
These light, mint green frocks are perfect for a garden wedding, or a fete inspired by the English countryside. These bridesmaids all keep the same color and fabric, which allows them to play with various hems and necklines that flatter each of their individual body types.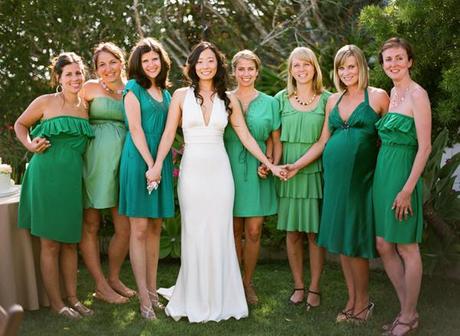 Heather P. Moore Photography via Once Wed
Another take on varying style of dresses, this Malibu wedding gives the bridal party a more casual feel. The different- yet complementary – shades of green all work beautifully together, and allow each maid to flaunt what she's got (be that great legs, shoulders, or a baby bump!)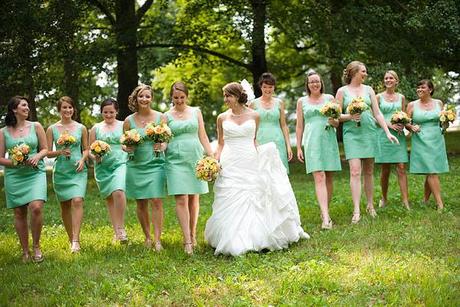 Gresham Photography via Elizabeth Anne Designs
These fresh, light green bridesmaids dresses are perfect for this Alabama plantation wedding. With such a large bridal party, the bride keeps things cohesive by dressing her maids in lovely dresses that are identical in cut, color and style.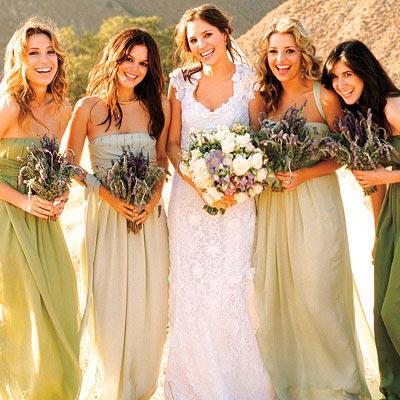 Elizabeth Messina via In Style
When your wedding party is smaller (and celeb-filled), you can take a few more liberties with bridesmaids dresses. MOH Rachel Bilson had friend Brian Reyes design each of Jill Stonerock's bridesmaids' gowns for her wedding to Gossip Girl/OC creator Josh Schwartz. While each shade of green on the gowns is slightly different, they all blend harmoniously, and Reyes kept some unifying elements, like the pleating and length.
This fresh breath of color into bridesmaids dresses will be a welcome trend for 2012. The vast variety of green hues makes it easy to find the perfect green (or the perfect selection of shades) to complement your wedding's color scheme – and your bridesmaids' taste.
Liz for Raymond Lee Jewelers, South Florida's choice for vintage engagement rings, antique wedding bands and wedding trends.