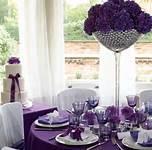 Wedding Reception Tables
Wedding Reception Tables
:
Wedding reception tables are such an important part of your wedding, and you"ll want it perfect for your wedding day . It is a wonderful moment when not only the bride and groom enter the reception room but also for the guests. Whether you are on a strict budget or not your wedding reception tables can look a million dollars.
The easiest part is your color theme, which by now you would have picked out for your bridal party. Wedding reception venues will set up your tables for you but you will need to find your table decorations. This is were the fun begins with so many wedding decorations to choose from and here are a few tips to make your job easier.
•Choose color co-ordinated decorations.
•Try to keep within your theme ie for a beach wedding set your wedding tables with beach shells.
•Do not over load your guests tables with huge decorations, as guests like to converse across the tables.
•Candles are romantic and cheap but can be made to look elegant.
•Flowers will always  perfect, and small vases are the best.
•Do you & your groom have a special love for something, maybe you can incorporate that special theme into you wedding reception tables.
• Use your wedding favors as a feature for each guest.
• Sometimes less is best, keep it simple.
•Make sure your guest are not over crowded on a table, it is better to have an extra table or two than squashed guests.
If you are having a budget wedding  then make home made decorations.Look for cheap glass bowls, vases or plates, these can be used for flowers, petals, shells, candles or what ever you like. Craft shops are good for ribbon, place cards and the like.
Below are a few ideas for your wedding reception table.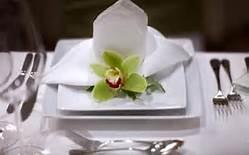 A flower on a plate, gives elegance on your wedding reception table.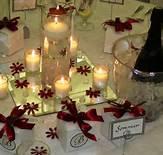 Candles bring romance to your wedding reception table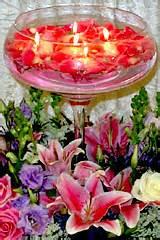 Flowers & Candles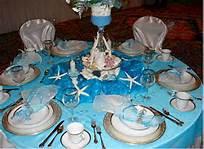 Beach themed wedding reception table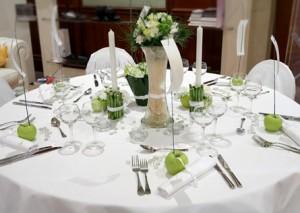 Check the apples, what a fresh idea.