When I decided to plan my wedding without an official planner, I had no idea what I was getting into. It's like taking on a second job! Creativity and some helpful friends are key, so I'm thankful to have amazing bridesmaids who enjoy DIY projects. In order to save a little money, we recreated these gold-framed table numbers inspired by my dream "Pinterest" wedding. Most of the items that we used were found online or at our local craft store. Here's how it's done: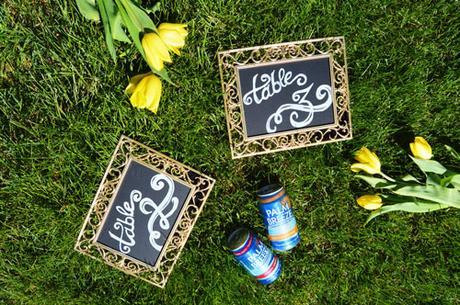 What You'll Need:
5×7″ Decorative picture frames.
Metallic gold spray paint.
Adhesive chalkboard contact paper.
White chalkboard markers.
White chalk.
Scissors.
Pencils.
Tracing paper.
Directions:
1. Remove the glass and backing from the picture frame. In an open area (preferably outside,) completely spray the front and back of the frame with metallic gold paint. Leave to dry.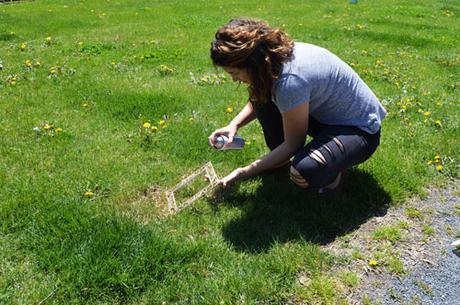 2. Use the glass to measure out the chalkboard decal. Cut it to size, remove the adhesive layer, and carefully smooth the chalkboard paper out to prevent bubbles as you adhere it to the glass.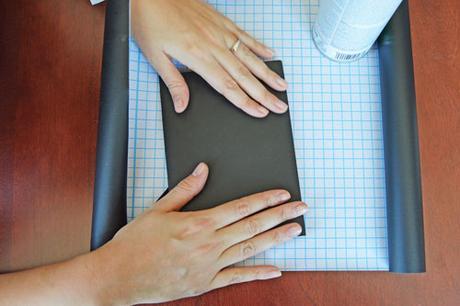 3. Print a template. You can easily find inspirational photos on Pinterest. Otherwise, look for a font that you like and simply type "table" into a Word Document. Make sure the size is set "to scale," so that the words fit nicely into your frame. Place the tracing paper over the image and trace the font with a pencil.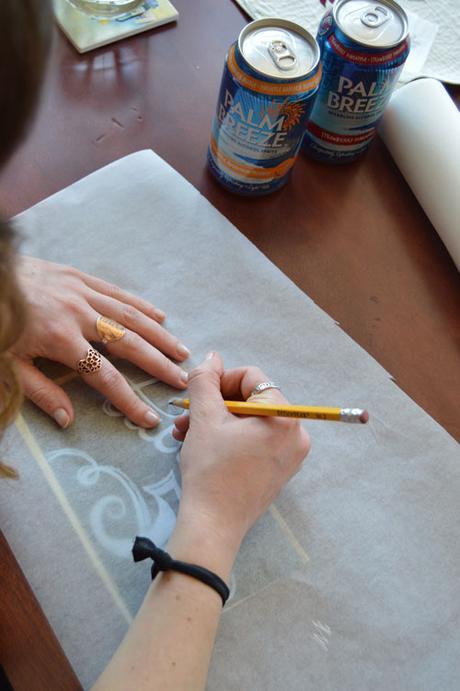 4. Flip the tracing paper over so that your image is backwards. Use the chalk to fill in your tracing, then flip it back over and rub the chalk onto your chalkboard-covered glass. Then, use the chalkboard markers to cover the chalk. Don't worry if you mess up- you can use a damp cloth to erase your mistakes.
5. Place the chalkboard covered glass into the frame and secure it with the backing. Et voilà: custom table numbers!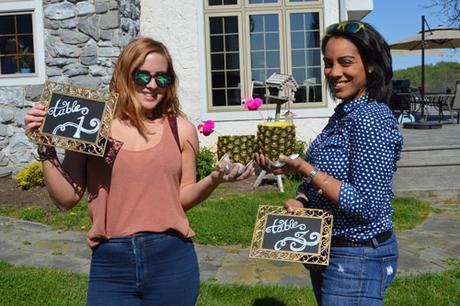 After we finished the table numbers, I wanted to thank my bridesmaids for their hard work. I decided to treat them to a tropical themed picnic with homemade Pineapple Mango salsa and Palm Breeze spritzes.To set the theme, I repurposed the pineapple shells as cups and added some adorable flamingo straws. Check out the recipe for the salsa here!
This post was brought to you by Palm Breeze. I received compensation to write this post but all opinions expressed are my own. Palm Breeze sells for $6.99 for a six-pack and $13.99 for a twelve-pack and has an ABV of 4.5%, making it a clean, crisp, refreshing drink with just the right amount of kick.
To find Palm Breeze nearby, visit For deals, perks, recipes and more simply Shazam the Can:

http://www.drinkpalmbreeze.com/
and don't forget to follow them on Instagram and Facebook.