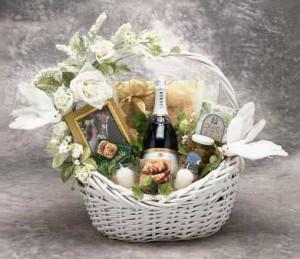 Wedding Gift Hamper
Wedding Gifts;
Wedding gifts are such a special part of a wedding . Most guests delight in finding something special for the happy couple, but to some guests they have no idea where to start.
I personally believe the sooner you find the perfect wedding gift the better, and for several reasons. Firstly if the bride and groom have a wedding  gift registry, then it makes sense to go to the store of choice fairly soon after receiving your invitation. This then gives you a broader choice on a wedding gift, and also allows you to choose a wedding gift within your budget. You dont want to leave it to the last minute as there may be nothing left on the wedding gift registry or a gift that is beyond your reach in price.
Wedding Gifts; Choosing The Right Gift
When choosing a wedding gift you select something that you know will be ideal for the bride and groom, so you need to look at several things so you do choose the right wedding gift. Firstly do they already have a home set up if so you'll need to look at a more personal wedding gift rather than a set of saucepans. The options here are extensive, monogrammed linen, especially when you know the colour of their bathroom. A lovely big photo frame suitable for a wedding photo will never go astray. Good crystal glasses are a great wedding gift. If you are really stumped as to what the right wedding gift is for the couple, then there are wedding gift hampers (like the one above) filled with luxury pamper items, you can either make your own or get one made for you. Other ideas are to give a gift voucher to a particular store, homemaker stores are good, also garden centres are another option , or maybe a voucher to a local restaurant might be a good choice for them. A weekend away at a romantic retreat is always a good wedding gift for the bride and groom to use later on down the track. When buying vouchers make sure they are valid for a certain length of time and the couple know the expiry date.
Pioneer Collage Frame Embossed "Wedding" Sewn Leatherette Cover Photo Album, Ivory
Wedding gifts not wanted;
Some couples chose not to have wedding gifts, instead having a wishing well for cards & money. Once it was frowned upon to ask for cash rather than a present, but times have changed and it is alright to do this especially if you already have most smaller items for your home. If stated on your invite that weddings gifts are not needed but some money would be appreciated , then simply work out what you can afford and pop it in a card, which is placed in what ever the bride has ready for her guests.
Martha Stewart Gift Card Box, White Eyelet