Entertainment is one of the 9 pillars of a successful wedding. When thinking of wedding, Happy music, dancing, and having a good time comes to mind. One of the most daunting task to make everyone happy is the music. Not only every guest has different taste in music, but also difference in age gathered under one roof is the biggest challenge. Therefore hiring a professional DJ with extreme experience in wedding entertainment is very important.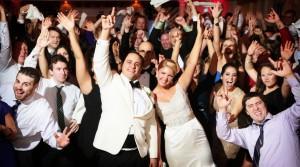 CC:Image Source
Disco Jockeys are professionals who are experienced in variety of music genre, and creatively applying this variety of taste within their mix of selection. Most DJ's will ask the following question to provide the best experience for the big day.
- How many guests are attending?
Number of people attending the wedding will determine the quality of sound and the mix of equipment to choose from.
- What is the wedding theme?
Wedding theme helps the DJ to mold the music genres within that category, creating every song choice relatively to the them.
- What is bride and groom's taste in music?
The two most important people in the weddings are bride and groom and it is their big day. So it is vital to know what music these two mostly listen to.
- What is the age of bride and groom's parents?
The second most important people are the parents in the wedding. They are the one want to be proud of these celebration.
- Ratio percentage of age in each category? 15-25   25-40  40-60  60 and above.
This is million dollar question to make sure the pre-mix music selection is in perfect order to please every age and taste.
- Indoor or outdoor wedding?
Indoor or an outdoor celebration of a wedding is important to any DJ for their sound quality and choosing the equipments.
- Venue location and accommodation?
Every venue offers different accommodation for heavy DJ equipments. The number of power outlets, Internet access, and a proper space to set up give DJ a proper preparation.
But what about other entertainment such as Live music. Is it better to sign a Live band entertainment than a DJ?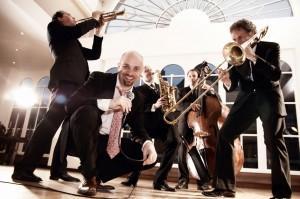 CC:Image Source
The answer to this question is based on bride and grooms taste, theme, and budget. Many Live music bands charge more than Disco Jockeys because of number of people in their band. But this does not mean you are stock with only one choice. Luckily, many entertainment companies are offering different packages based on the taste, theme, and budget.  You can choose a combination of DJ and Live band music package and go the extra mile. It is your day to celebrate as a bride and groom. Go with your heart and select the best you think make you happy. You deserve it.

Don Zilleri
Don Zilleri is an author and researcher. He is specialized in business marketing, development and is a small business owner. He learns as he writes by researching and interviewing experts and professionals in many categories and topics. Join him in Facebook and become part of his pro network in LinkedIn All Don Zilleri's article's authored exclusively for BidsByPros.com All rights reserved. If sharing, credit Bids By Pros in article source.