When did I decide to shop from Yebhi.com - 
Check out my Yebhi shoes and perfume haul.
It happened when V suddenly decided  to buy a laptop bag and gave the responsibility to me so i could find some good websites. He already owns a regular laptop bag with a long shoulder-strap and small handles so next choice was a backpack style laptop bag. Buying a laptop bag in backpack style is not very difficult these days so i\I found some websites and Yebhi.com was one of them.  He also liked the the selections of Yebhi.com  and chose two brands -
Starx
(a budget friendly brand for laptop bags and backpacks) and
American Tourister
(Prices are higher than Rs.1500 and it offers a really good quality  material). We did not want to spend a lot for an office laptop so we chose
Starx
. While browsing on Yebhi.com, we got to know a lot of good things about this website -
1. They offer EMI for 3 to 6 months - for any damn thing. You just choose what you want to buy. I chose to pay in EMI for my Juicy Couture perfume. I want to see how easy it is.
2. A wide, wide variety of products under each category. You will get tired of browsing.
3. You don't like the product or size doesn't fit - they have an option of
Return Order
which is again very interesting. 
How To Place Return Order at Yebhi.com - 
- Login to your account. - Go to "My Order" and select the option Return Order for the product you would like to return. See this picture-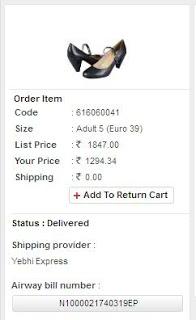 - A pickup-man would come in 1 or 2 working days and take your return order.
Note
- Just make sure that you haven't worn your shoes or used the product and they are worn out. (
I had to convince them that I did not wear their shoes I wanted to return for an entire day. I swear, I just wore them took pictures, walked a few steps and put them aside.
). So, what they show you in advertisement for Yebhi.com is not really true. (
Ye Wednesday ko pink ho jata hai aur Friday ko loose, something like this
)
- He will give you Airway Bill No. which also gets updated in your Yebhi account for that Return Order.
- They will send you an email confirming what you would like to do with the returned item - replacement, refund or anything else.
- That's it!!
Do I want more from yebhi.com?
Yes, please start keeping more perfume brands like UDV, Estee Lauder, Lancome, Britney Spears, Marc Jacobs etc. if possible!!
Happy Shopping!!
=====================================================
Disclaimer:
For any queries, PR information, website review, store visit and events - please mail me at
shoppingstyleandus@gmail.com
. Read about Shopping, Style and Us and to know more, please read my Disclosure Policy.
Jiya (Shoppingaholic)