Web Hosting Easter Sale-A-Bration!
Let's look at some of the facts. People want:
Inexpensive
24/7 Customer Service/Support
99.9% Uptime
Free Website Migration
User-friendly Dashboard
And more!
SiteGround Wants To Be Your Web Host!
I'll be honest with you, I've been blogging for over 6 years now. I started self-hosting with SiteGround Web Hosting years ago. I tried a couple other hosts during this time, briefly, and quickly came running back to SiteGround for many of the above reasons.
I had too much downtime with Bluehost. Site5 couldn't handle my site traffic and wanted to move me to my own server! After speaking with SiteGround again, they convinced me it was time to move back to them! I haven't had ANY issues since PLUS they can handle the traffic of BOTH my websites!
Let's Look at the Plans
If you get more than 10,000 views per month, the GrowBig plan is for you!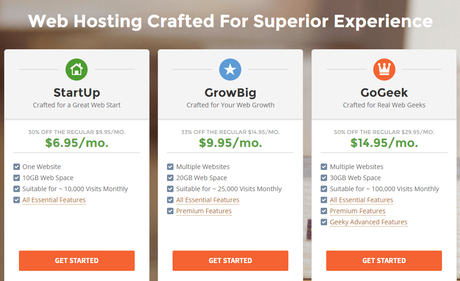 Let's compare the Packages.  Yes, it may cost a bit more than some of those "other" hosts, however, the benefits far outweigh anything the "others" could offer you!
Do I Sound Like a Salesperson?
Good! Because I know you will be extremely happy with SiteGround and I love happy people!
What Do I Get?
Let's ask, what do YOU get?
Free Web Domain at Sign Up!


Three (3) different Shared Web Hosting Packages to meet your needs.
Free Set Up and Transfer
30-Day Money Back Guarantee
Free Daily Backup
Free Cloudflare
Free Website Builder
Unlimited Traffic, Emails, DBs
Premium Speed
Premium Performance
Premium Security
And so much more!
So What Are You Waiting For?
With a 30-Day Money Back Guarantee, you have nothing to lose! Head on over and Check out the Easter Web Hosting Specials today!
#WebHosting does not have to be horrible! Get 30% off with #SiteGround 3/25- 3/28/16! Come see how!
Click To Tweet
Over to you
How happy are you with your current host? Do you have downtime? Are their Technical people available 24/7 to help you?

Brenda
I have over 28 years as an Administrative Assistant, including at the Executive Level. I also have over 5 years experience as a Content Writer, Webmaster, Web Designer, and Social Media. If you're in need of assistance, please
Send me an email
and let me know how I can help.

Latest posts by Brenda
(see all)
Web Hosting Sale-A-Bration!

- March 25, 2016

10 Failsafe Moves To Rekindle Romance

- March 23, 2016

6 Steps to Help You Through Trust Issues

- March 22, 2016
Related
Tweet
Share
1
+1
1
Pin
Share
Stumble
Total Shares

2