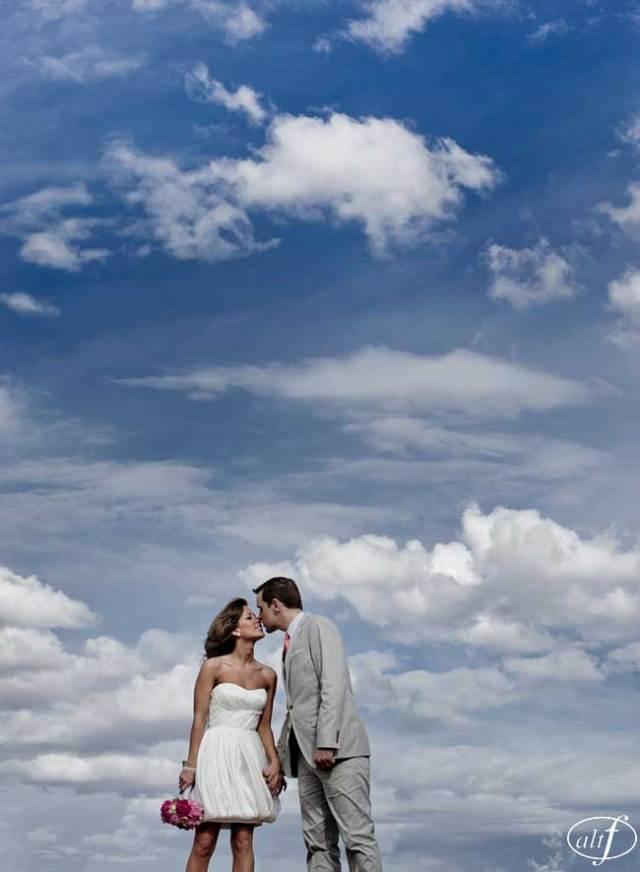 It will not come as a surprise to many people that weather in Las Vegas is quite often hot and sunny. I am asked about the weather in Las Vegas quite often, by my friends back home in England, and also by couples asking me to organize their weddings for them as part of my Las Vegas wedding planning business.
Las Vegas is a city in the Mojave Desert. So, we do enjoy sunshine all year round. We have 300 days of sunshine a year on average. But that leaves around two months' worth of not-so-sunny days. Vegas does have seasons, which I find surprises some people.
The Winter months are pretty mild compared to most places, around 15C or 60F in the daytime, and usually accompanied by strong sunshine in the middle of the day. The sun sets early in the day in the Winter, at around 4:30pm, then it gets quite cold quite quickly in the Winter. We see temperatures around the freezing level most nights during December through February. The Winter is not especially rainy, though we do see some rainy days, we also get a few sandstorms, but these tend to be away from the Strip. The mountains around Las Vegas do see some snow, and you can even do a little skiing on Mount Charleston.
High Summer is hot. August, the hottest month, sees daytime average temperatures of 39C or 103F. The sun will be too strong for being outside for any length of time to be pleasant. However, this means that nights are also very warm, with low temperatures of around 23C or 74F. The benefit of being in the desert is that the heat is very dry, and it is often humidity that makes us sweat a lot. Another drawback of August is that this month can bring the few rain storms that we see in Las Vegas.
Spring and Fall are very lovely in Las Vegas, and these seasons last the longest. We have long, sunny days and the temperatures can be quite hot, but depending on the time of year, cool enough to be outdoors comfortably, especially at the beginning and end of the day.
Month High Low
January 58° F (14° C) 34° F (1° C)
February 63° F (17° C) 39° F (4° C)
March 69° F (21° C) 44° F (7° C)
April 78° F (26° C) 51° F (11° C)
May 88° F (31° C) 60° F (16° C)
June 100° F (38° C) 69° F (21° C)
July 106° F (41° C) 74° F (23° C)
August 103° F (39° C) 74° F (23° C)
September 95° F (35° C) 66° F (19° C)
October 82° F (28° C) 54° F (12° C)
November 67° F (19° C) 43° F (6° C)
December 58° F (14° C) 34° F (1° C)