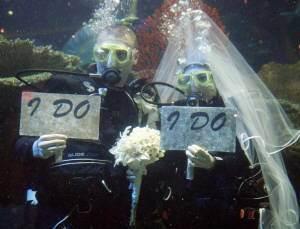 Come to the desert and get married underwater! The Silverton is an off-Strip casino, but it's not far away, just off the I-15. They have a beautiful 117,000-gallon saltwater aquarium in the casino. The aquarium is home to 4,000 tropical fish plus stingrays and sharks. The casino holds interactive stingray feedings several times a day. They also have live, human "mermaids" put on an underwater show several times a day from Thursday to Sunday.
The Silverton are offering a package for couples to get married in full scuba gear in this aquarium. Couples must be fully certified scuba divers to do so.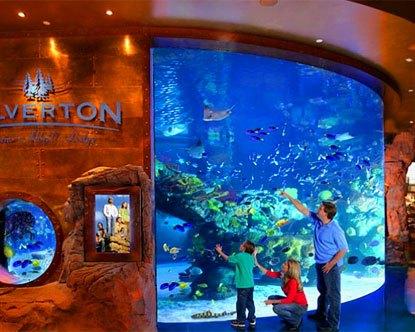 The Silverton is a nice casino, and I can recommend their food. A wedding package with the Silverton can include your officiant, champagne, accommodation, dining, photos and transport to and from the courthouse, to get your license. If you do not have a bridesmaid, don't worry, they can provide that too, in the form of a mermaid!
For more information on an underwater wedding please call the Silverton Casino on 1 866 668 6688.
For more information on planning your Las Vegas wedding, email Claire or visit her website. For updates, "like" the Las Vegas Bridesmaid page on Facebook.