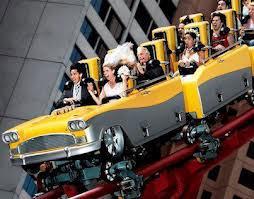 If you look at the New York New York casino on the Las Vegas Strip from the street you cannot fail to notice the huge roller coaster that zooms around the outside of the building at 67 miles per hour. The roller coaster will lift you up 203 feet and drop you down 144 feet.
More than one million visitors experience the ride each year. If you love roller coasters this is a great place to get married, and truly unique.
Thrill seekers who desire an exhilarating wedding ceremony at this top speed can have their wedding ceremony on the roller coaster. A morning ceremony costs $600 and an evening ceremony costs $700. This includes your minster. Specific times available differ depending on availability and the time of the week, but times are generally available between 10am and 11am and 11pm to midnight.
The entrance to the roller coaster is on the second level of the casino through an arcade with a Coney Island feel. The roller coaster train fronts are designed to look just like real NYC taxi cabs. A wedding ceremony on the coaster will add a boost of adrenalin to your nuptials, while enjoying towering drops, multiple loop and stunning views of the Las Vegas Strip.
Bare in mind that riders must be at least 54″ tall. Because the ride is outdoors, hours of operation are subject to weather conditions and other circumstances which may suspend service.
For further details or to book your roller coaster wedding contact the New York New York casino on 702 740 6616.
For more information on planning your Las Vegas wedding, email Claire or visit her website. For updates, "like" the Las Vegas Bridesmaid page on Facebook.