For anyone who travels, weather can make or break itineraries. But since I take photos for this travel blog, I need to be more obsessive-compulsive about forecasts—I can't go not only when it rains but also when the skies are on overcast. I do a lot of weather tracking on-the-go with my mobile phone, so here are some cool weather apps I've tried. Read more…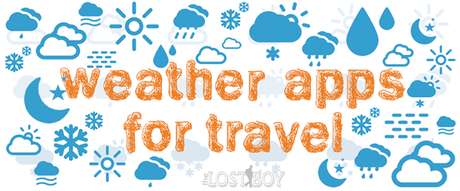 WEATHER BUG
Weather Bug is the first weather app I've used. I recall downloading it for our trip to Brunei and Sabah. What I like about this app is that I can add several cities to my list and thus track their location simultaneously. What's more is that it gives push notifications whenever there are severe weather disturbances, such as heavy rains, in the cities I am tracking.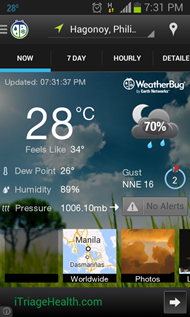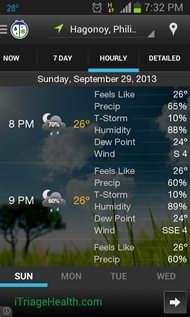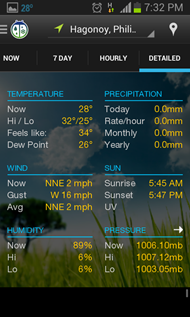 Other equally important features include seven-day daily and hourly forecasts for any city and weather details for the day, including temperature, precipitation, wind, sun, humidity, and pressure measurements. Users could upload weather photos and live cams, too.
GO WEATHER EX
GO Weather EX is among the most popular weather apps on Google Play, so I downloaded it. Apparently, it could replace the stock weather widget in an Android smartphone with a variety of animated themes. It also features forecasts for the next six days and for every six hours of the current day, and sharing of the current weather on different social media channels. The primary disadvantage of this app is that a lot of its features and themes are available with the paid version, leaving the free app with only a few capabilities.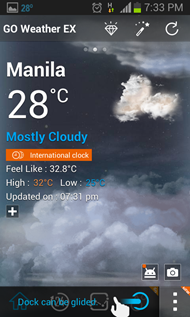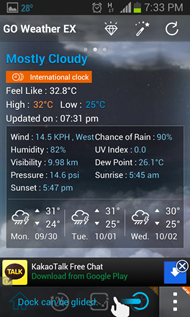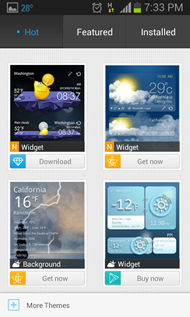 ACCUWEATHER
AccuWeather is one of the most well-known weather websites. The features of its free app version is similar to Weather Bug, only that the interface looks a lot better in my opinion. Colored graphs aid forecasts, and RealFeel, a trademarked element of AccuWeather, determines what the temperature outside really feels like.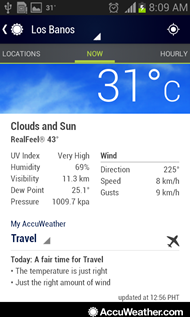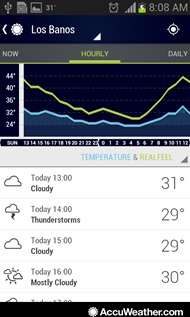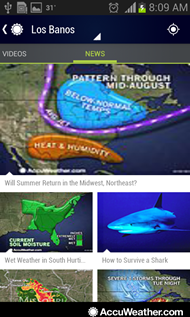 There are tabs for weather forecast maps, videos, and news, but what I'm certainly fond of is My AccuWeather. Users may customize forecasts and the current weather for certain activities, including DIY projects, fishing and game, outdoor fitness, and travel. I've set mine to travel, and currently in Hong Kong, it says "excellent time for travel."
In a tropical country like the Philippines, weather is perennially variable—bipolar, as some would call it; hence, weather apps must always be updated to be abreast of the current weather situation and forecasts for travel and everyday life.
Fortunately, the apps I've mentioned above do not require a lot of data to get real-time updates, so my POWERSURF 499 from Globe is more than enough with a gigabyte of data over 30 days. With it, I'm not only informed of the weather, but I also get to update my social media accounts, check my mail, and surf the internet while on the road. With the said data plan, I can enjoy 33,000 tweets, or 3,000 webpages or 5,000 times of map navigation using your smartphone. To register to POWERSURF 499, dial *143# and press call for free.
With these weather apps, I'm able to plot my travel plans wisely and efficiently, so download one now using POWERSURF 499 or any one of Globe's mobile data plans for both prepaid and postpaid. Do check out surf.globe.com.ph for more details or dial *143# now!