Not too long ago I was contacted by Waxhead Sun Defense sharing the news of their organic sunscreen and other products, including their nutrient bars and clothing. I was definitely interested since I'm a Florida resident out in the sun every chance I get. On top of where I live, I also struggle with the sun thanks to a good case of a skin issue called rosacea plus the antibiotic I take for that condition warns me to avoid the sun. 
When the Waxhead products arrived, I was excited to give the sunscreen a try in the hopes that I could enjoy the outdoors without worrying about my skin.  I chose a day that I had a local 5k to run that didn't start until 8am – which might as well be high noon since it's already 82 degrees at 8am in April! I knew that after the 5k I had agreed to participate in a local Relay for Life and had agreed to help set up at 3pm.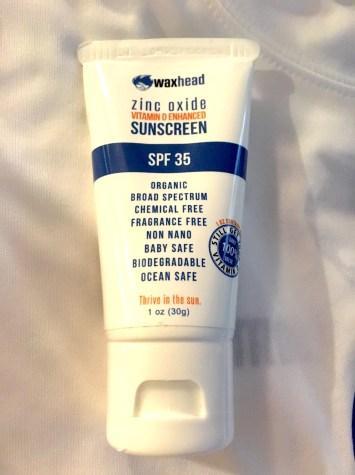 Before I left the house I applied the Waxhead sunscreen. I ran the 5k, came home and changed clothes and spruced myself up a bit. I reapplied the sunscreen and headed out to the Relay for Life. All in all, I spent about six hours in direct sunlight which, in the past, has always translated to sunburn city.  I'm happy to report that this Waxhead sunscreen did it's job and no burning occurred on my lily white body! YAY! 
The Waxhead sunscreen is made with only 6 certified organic and mineral ingredients:
1. 25% non-nano Zinc Oxide
2. Eldorado Springs Artesian Water
3. Certified Organic Extra Virgin Olive Oil
4. Certified Organic Beeswax
5. Vitamin E (non-GMO from sunflower seeds)
6. Vitamin D3 (Cholecalciferol, 400 IU per ounce)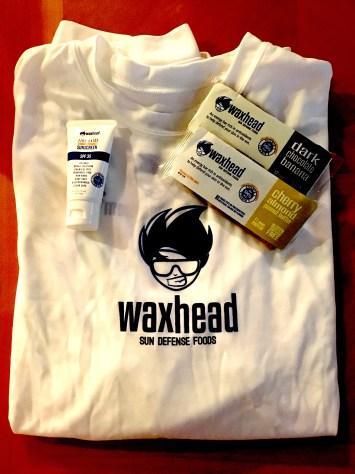 When Waxhead sent me the sunscreen sample, they also included a really nice white, long sleeve dri-fit performance sun shirt made with moisture-wicking 100% polyester antimicrobial performance fabric that's machine washable and SPF 30. Right now I'm saving this shirt for the fall when I'm out doing long runs and exposed to more sun than I realize so I don't end up burned like last year! The performance sun shirt will keep me covered and I tried it on so I know it's very comfortable.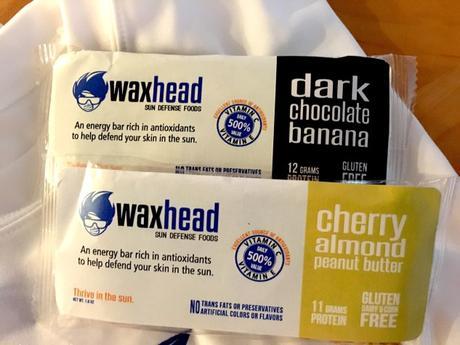 And last but certainly not least, Waxhead sent me two Waxhead energy bars – dark chocolate banana and cherry almond peanut butter. I've only eaten the dark chocolate banana energy bar so far, but let me tell you – it was ah-mazing! I can't remember the last time I had such a great nutrient bar and then to read that it is rich in antioxidants helping to defend my skin in the sun! I had never heard of that before. 
Designed using proven nutritional science and real world field tests, Waxhead nutrient bars provide "always on" sun defense by fueling the body with a superior amount of powerful antioxidants, which neutralize free radicals produced from sun exposure to boost skin's defense against sunburn and long term damage. Waxhead Sun Defense nutrient bars make life in the sun better.
What I learned about the dark chocolate banana bar is that it is rich in protein and potassium, which helps rebuild muscles after strenuous activity. It's handmade and loaded with organic bananas and dark chocolate antioxidant. The dark chocolate banana bar contains 4 grams of fat and one bar delivers 500% of the daily value of Vitamin E and Vitamin C, along with 12.4 grams of protein. Most people already know that dark chocolate is packed with polyphenol antioxidants and powerful anti-inflammatories. Waxhead makes these energy bars with "only the good stuff" which means they are all natural, no trans fats, no artificial colors, flavors or preservatives, rich in antioxidants and gluten free.
You can learn more about Waxhead by stopping over at their Official Website HERE.  You can also find them on Facebook, Twitter, Google+, Pinterest and Instagram!
Waxhead – "Thrive in the Sun"
~ ~ ~ ~ ~ ~ ~ ~ ~ ~ ~ ~ ~ ~ ~ ~ ~ ~

It would be great if you would stay connected with me!! You can follow me on Twitter @DebiL1611, like me on Facebook at 2014 and Beyond, circle me on Google+, follow me on Tumblr, Instagram and Bloglovin', subscribe on YouTube, or connect with me on LinkedIn and Pinterest.

Please make sure to visit my homepage and subscribe to my blog for more great posts on running, fitness and lifestyle topics as well as food, product, music and book reviews, and more!