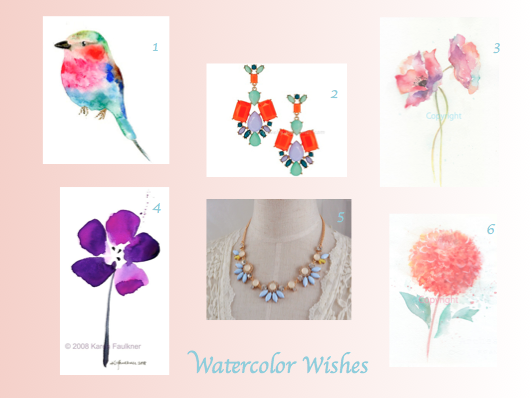 (One) Breasted Roller by Dimdi 
(Two) J.Crew inspired earrings 
(Three) Poppy watercolor print 
(Four) Purple flower print 
(Five) J. Crew inspired necklace
(Six) Dahlia watercolor print
Ever since I can remember, I have had a love affair with watercolor. Not just watercolor paintings, but the whole visual of soft, pastel, muted colors that make us cheerful when looking at them. When shopping for anything from accessories to polish a look, to even home decor pieces that give a room character, these beautiful colors are what catch my eye. 
Statement jewelry is all the hype right now! But since they are quite trendy pieces, I like to find them for a low cost! The two I have pictured are both J. Crew inspired (you know I love J. Crew!) I've also been on the hunt for small little decor pieces that will add that "Carrie flare" to my new apartment. I have pictured 4 prints (8x10) that I would like t0 purchase and frame for my new room. Everything I chose today is from Etsy and all come at affordable costs!
What catches your eye most often when shopping?
XO, Carrie