Today is the Feast Day of St. Elizabeth Ann Seton. Saint Elizabeth was born August 28, 1774. Elizabeth was raised in a wealthy household, her father was a doctor. Her mother died when she was only three years old.
At nineteen she married a wealthy businessman. Ten years later she was a penniless widow. Her husband's business went under and he soon died of tuberculosis. Left to raise five young children on her own she converted to Catholicism in 1805. To take care of her family and their education, she opened a school in Boston. Soon the Archbishop asked her to go to Baltimore and start a school there. This started the first parochial school system in the United States. She founded the Sisters of Charity to help run the place.
She died on January 4 th 1821 of natural causes. I decided to make Wassail. Elizabeth may have drank something similar to this.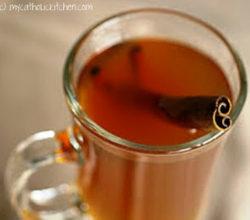 Wassail Hot Cider
Ingredients:
Directions:
Peace be with you,
Veronica