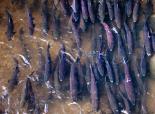 Cross Posted from ADN
About 1,100 king salmon died returning to a hatchery in Southeast, and officials suspect the cause was warm weather.
The fish died sometime last week at the Blind River rapids on southern Mitkof Island, south of Petersburg. The fish were returning to the Crystal Lake Hatchery, KFSK reported.
Alaska Department of Fish and Game sportfish biologist Doug Fleming said he found the dead fish July 18 after last week's warm weather, when temperatures were in the 80s.
He began monitoring water levels earlier in the week when it appeared temperatures were reaching dangerous levels.
"And so, getting through till Wednesday which appeared to be the hottest day, then on Thursday I was conducting an aerial survey just to get a grip on how many fish may have been killed by the warm water, not expecting to see a large die off but some, and I was shocked to see the numbers of fish that we lost," he said.
He suspects a combination of factors led to the die-off, including hot water, low oxygen levels in the water and a large number of fish trapped at Blind Slough.
Tides also may have played a role since the die-off occurred during smaller tides, when cooler ocean water perhaps didn't reach far enough upstream.
"The tides were building. We were just getting a small amount of tide exchange. It appears if, if the fish had made it through Wednesday night, they probably would have survived. We had a change in the weather, cooling off. And the tides are growing they're very large now. I've heard reports that these carcasses are starting to wash out into the Wrangell Narrows," he said.
The hope now is that the fish that survived will use the tides to reach the hatchery.
Fleming said they were expecting 1,800 adult kings to return this year, meaning a sizable portion didn't make it. Officials will have a better estimate later this year of how many survived.
Such large-scale die-offs are not uncommon. In 1989, officials found 1,400 dead fish in the slough. There's been six occurrences in the last 35 years of die-offs topping 500 fish, including this year.