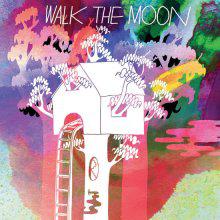 Moon Rocks
By Eric Webb
I get it. It's summer. It's hot. You have too much time on your hands, or you want to feel like you do. Your calves have taken sweet flight from their pants prisons. You've considered accepting popsicles instead of money as payment for goods and services rendered (cream-filled, of course — you're not a fool).
You probably want a summer soundtrack or something don't you? Something to pipe through the ol' earholes and pretend you know the words to whilst in the car? OK. Fine. You jackals.
Be smart: Go spend your next popsicle-check on Walk the Moon's self-titled album.
In a fit of coincidence (or predestination, for all you Calvinists), I heard lead single "Anna Sun" on the radio the night before this album dropped and Shazam'd it. Then I watched the music video. Then I added it to my "Jams" playlist. Then I wept openly, for in the deepest chasm of my e'er pining heart, I knew that civilization had achieved its zenith: an album I could listen to while I jog and not have to skip any tracks.
So. I guess it's a pretty good, then.
Pro-tip: Get in on the ground floor with "Anna Sun," because it is sweeping and triumphant, and your local alternative radio station is about to make it "Call Me Maybe." A track with top-notch dance-rock sensibilities and shameless pandering to the tambourine lobby, it's titanic and youthful, a plea to not let go of the kid you've always been. Such is the schtick with this band: Walk the Moon sounds like Friendly Fires one step removed from the disco and with a gift certificate to Guitar Center. Their style could blend seamlessly into a sweaty downtown rock club or a Grouplove-inspired mixtape. They are populist bait, which means "Anna Sun" will end up in a commercial for Ford Fiestas and you'll never want to hear it again. Stop, and savor.
There's enough here to raise your heart rate past that sublime single. The ebullient "Quesadilla" is Vampire Weekend's "A-Punk" for 2011, with a big build, good-natured shouts and a title that would compensate if the track was lacking (it's not). "Tightrope" is a joy, plain and simple, and may be the best song on the album.
Other standouts include the slinkier grooves of "Shiver Shiver" and "Lisa Baby," perfect for summer afternoons. Two other tracks, though, lift Walk the Moon into the stratosphere: "Iscariot" and "I Can Lift a Car."
The former is, I kid you not, a dance-rock answer to Bon Iver. It is "Holocene" in neon. Full of depth, resonance and gorgeous harmonies, this song takes the place of the mopey, interminable ballad so prevalent in the latter half of many other albums. It's not a limp, downtempo number — it's a raw operetta. Lead singer Nicholas Petricca intones "That's what you want, but it's not what you asked for," and the theme of betrayal hits home for anyone who has ever known any person.
"I Can Lift A Car," on the other hand, is full of musical endorphins. You might ask yourself: Is this cheesy? And, what with it sounding like a perfect blend of Wheatus' "Teenage Dirtbag" and Katy Perry's "Thinking of You," you could make a case for triteness. If you made that case, however, you would be no fun. Chock full of deeply intimate confessions to a one-time love ("Well I met someone who wears your glasses/she kissed me on my new futon/Oh I'm clumsy 'cause she finds me attractive"), this is a track that's 50 percent emotion and 50 percent anthemic chutzpah. Check your cynicism with the security guard at the door.
There's two possible futures for Walk the Moon: in the darkest timeline, they fade away into obscurity. In the alternative, they will become wildly popular. Why wait to find out what happens? Dig in.
Eric's Picks
(1) "Quesadilla"
(4) "Anna Sun"
(5) "Tightrope"
(9) "Iscariot"
(11) "I Can Lift A Car"