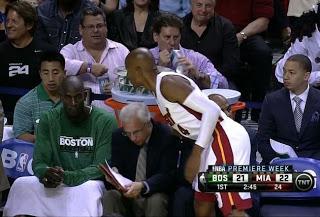 Photo: TNT
- Troy Ballard
Ouch.
We all knew there was going to be some tension between Ray Allen and the Boston Celtics after he defected to Miami. There was little doubt that something was going to go down, especially when there is a player like Kevin Garnett on the other bench.
Sure enough, Allen was embarrassed on national television by his former teammate. In a display of vintage-KG, Allen approached him, and Garnett simply acted like he was invisible.
You can watch the video right
here
.
Comical, sure. But this flat-out rejection by Garnett underlines something that most people seem to be skipping over — Allen leaving Boston was about much more than just championship chasing.
This unit of Garnett, Paul Pierce and Allen were the original big three. After KG was dealt to Boston, the Celtics has the best team in basketball. Pierce was the middle-man who stayed with the Celts' the entire time, and those three formed the NBA's dream team.
And what did those three do together? Won an NBA Championship.
Garnett, Allen and Pierce had an incredibly close bond. Those three were like brothers on the court.
Sure, people will point to Allen's disagreements with Rajon Rondo. To the fact that the Celtics often attempted to pawn him off for the team's newest interest on the trade market. That Allen's chemistry with the fan base and front office had totally deteriorated.
But beyond all those primarily petty things — Allen and Boston went hand in hand.
And, yet, what Garnett did last night has received an immense amount of attention from the media.
Why is anyone really that shocked?
Not only because that's how KG is, but also because his reaction is about what you'd expect from someone who had an old friend leave to a bitter rival. Garnett's cold shoulder isn't so much about Allen leaving than it is the newly born rivalry between the Heat and Celtics.
Allen may have been a great friend in Boston to Garnett. But guess what? He's not in Boston anymore. He's a member of the Miami Heat. And in case you've been living under a rock, Miami and Boston are acting more like the US and
Russia
.
Garnett simply let Allen know that he's not a friend, he's an enemy. Their past be damned.
Be Sure to follow Beard and Stache on Twitter 

@BeardAndStache

, and also Troy 

@TroyBallards

, like our Facebook page 

HERE

!