Right now, I'm in a holding pattern. I can not tell you (or anyone) what I will be doing at the end of September. Why? Because I don't know myself.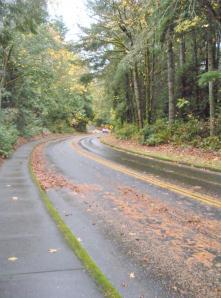 School starts up for the Fall on the 26th of September (remember: this is WASHINGTON and most of the schools here are on the QUARTER system, thus the later start date), but I don't know if I'm going or not. Originally, I wasn't.** I had planned earlier on graduating back in June, but for financial reasons, I changed my mind and decided on attending college for at least another quarter. Now, my financial aid is "up in the air", per say.
If I haven't mentioned it already, I had a BAD Winter Quarter for various reasons, none of which I am going to indulge in at this current time. Let me just put it this way: disagreements, MAJOR differences in personality, and other various things in relation to the professor I was working with caused me to end up with ONLY FOUR CREDITS (and yes, I'm in the midst of having this re-evaluated… another LONG STORY for another day). Anyway, since I didn't complete at least 75% of the credits I attempted (which would be 12 credits per quarter), I did not make "Satisfactory Academic Progress". Basically, my financial aid is on hold.
I've completed an appeal, which includes an explanation from yours truly as well as support letters from my doctor, my scholarly ex (aka- "X Offender) who has helped me out with my education and knows me best, and someone else who knows me much more intimately than 99% of the population.
Now it's waiting time.
From what I heard, it will take the board who will review my appeal, a week or two to make a decision. All of the paperwork will be turned in tomorrow, so I've got 7-14 days before I find out my fate. Not surprisingly, I'm VERY concerned.
I've been doing a good job trying NOT to think about it and to not talk about it like it's a surefire thing (i.e.- "It's GOING to happen"). Of course, it still does pop up in my mind a few times a day, but I just try to switch gears and do something else to get my mind off the subject (aka- "distraction" = one type of coping mechanism).
BTW, it was writing this appeal that kept me from blogging very much. The subject matter dealt with VIA the appeal is incredibly stressful (once again, I will not go into details right now), and because of this, I really had to focus on the task at hand in order to get it done.
But now the appeal is done and will be handed in tomorrow, so what's left? Waiting… that's what.
_____________________
(**BTW, I have more than enough credits to graduate, and for all intense purposes as well as for bragging rights, I'm a college graduate– or something like that!)