Wagah is a village in Punjab which shares border crossing  with Pakistan .This is an important attraction in India  .Fortunately i had a chance to visit this place during my national trip .
So what's special about this place ?
1.One can see Pakistan's border ,Pakistan people ,Pakistan soldiers
2.Every evening "lowering the flag ceremony" takes place.
3.Bus which carries passenger from India to Pakistan .(Pakistan Bus)
4.Fearless soldiers with angry faces !!
5.Border Security force and Indian army .
. As the whole world know about India and Pakistan revivals .These things can be seen clearly in the border ,so during the" lowering flag ceremony" both the gates are opened and one solider representing each country will face each other in the border.we can see the anger in the face of soldiers.While  marching towards the gate they used to perform some kind of march-past .Opposite to the gate one can find the photo of Mahatma Gandhi and Mohammed Ali Jinnah . Regarding seating arrangements only few number of seats are available on both the side and there are special VIP seats too.Visitor are allowed inside this area after a complete check up and everywhere one can see armed soldiers .
The silent Fire which buns inside every Indian comes out at this place ..Wonder why ?? because everyone will shout in representing their country .A Instructor will be in the event who asks us to shout for India .This showcases how we love India and the pride to say that we are Indians in front of the Pakistan.It was a memorable trip for me and i wont forget this in my life .I would suggest every Indian to visit this place at-least once in their life time . Take a look at the video … actually i shared a video from you tube  . "I LOVE INDIA"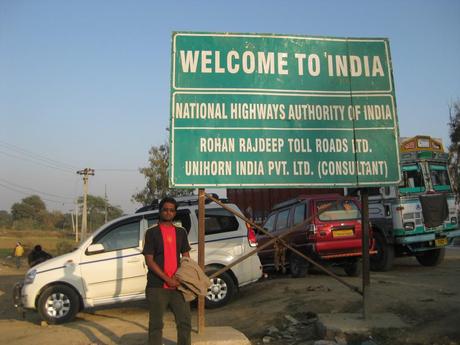 Take a close look at this pic
Pakistan Bus

In this pic you can the India gate ..followed by Pakistan and Mohammed Ali Jinnah Photo