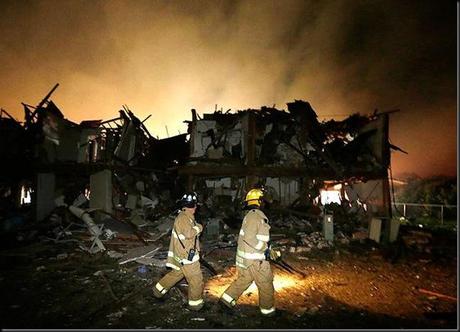 Above is a picture of the utter destruction caused by a huge explosion at a fertiliser plant in West, Texas near the town of Waco. The blast happened just before 20:00 local time last night, indeed the police registered a call at 19:53 so perhaps we can say that 19:51 is an accurate time for the incident? It has destroyed many properties and the death toll is rising. This caps quite a week in the United States and it came as the Sun and Mars were making a fiery conjunction in the skies.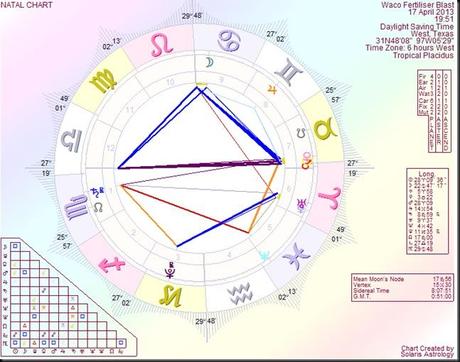 The standout aspect for me looking at the chart for this blast was the exact conjunction on the descendant between the Sun and Mars, both at 28:09 degrees Aries. They were also in conjunction with Venus sitting in Taurus. All that explosive and fiery energy from the Sun and Mars was directed at one point on earth (the Ascendant) and in particular a building connected to farming and the earth, something very synonymous with Taurus (an earth sign) and it's ruler Venus. The opposition here connected to the Moon by a t-square, so this was an incident where the local population (Moon) would be in the firing line. Notice too Jupiter sitting at the midpoint of the Midheaven and Sun/Mars conjunction. This would have increased the destructive power of the blast and also allowed it to become an international (Jupiter) story (in Gemini), the video of the exact moment of the explosion has gone viral on the internet.
We also had an opposition here from Saturn to Venus showing social grief and unfortunate happenings to buildings (Saturn) and property (Venus) and also the potential for an accident would have been enhanced by an inconjunct from Saturn to Uranus. Uranus also in Aries and squared by Pluto is the one with direct motion and so has precedence over Saturn, so the shock and unpredictable nature of Uranus destroys structure and things that have been standing for a long time.
As for fixed star connections, the Moon was sitting conjunct to Pollux in Gemini at the time of the explosion, a rather dark and sinister connection and Mars and the Sun were coming into contact with the stars Al Rescha in Pisces and Mirach in Andromeda. The second of these two Mirach (click the link for my previous post on this star) is a very fertile influence, rather appropriate one would think, and Al Rescha is a link star, noted for bringing different elements together. If you bring fire next to fertiliser you get a lethal cocktail, and then kaboom!!!