We had the pleasure of staying at the W Bangkok recently, and after spending three nights at its sister Starwood brand, Aloft, we surely were looking forward to another modish property. The short of it is, we were happy to find a hotel we truly love. Read more…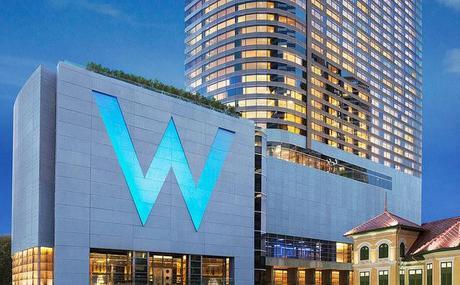 Situated in the bustling Sathorn district, W Bangkok has an address fitting for a hotel of its profile. Surrounding it are Sathorn's towering offices, thus populating the area with a stylish set of yuppies and expats. Their presence, of course, calls for a plethora of chic establishments—restaurants, diners, coffee shops, pubs, and bars—that guests of the hotel can likewise easily access in minutes by foot.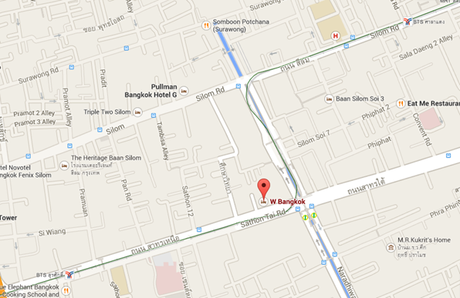 Those needing a dose of rowdy nightlife can easily hop on a cab to nearby Silom or to the famous RCA Alley, which is only a little further away. Those in need of a style upgrade, on the other hand, can take a BTS Skytrain two stations away to Siam for its myriad of shopping centers. The BTS Skytrain station of Chong Nonsi is, by the way, three minutes by foot from the hotel, making the hotel practically accessible to the rest of the city.
W Bangkok belongs to the growing portfolio of W Hotels, a contemporary, design-led collection of hotels and retreats in both pulsating cities and exotic destinations worldwide. Its youthful vibe is an innovative mix of artsy, contemporary, iconic, and yes, even hipster—thanks to its cutting-edge design and inspirations drawn from fashion, music, and entertainment.
It thus doesn't come as a surprise that the W Bangkok usually draws in a fashionable, jetsetter clientele that truly embodies the high-society (high-so in Thai modern-day culture) lifestyle. In turn, the hotel takes care of its discerning guests through its awe-inspiring rooms and suites, chic restaurant and bar, stylish retail concept, signature spa treatments, and glamorous events, like their annual Songkran wet party.
We arrived at the hotel past nine in the morning, and a pretty young lady welcomed us and consequently confirmed our reservation. As she went through the details of our stay, we couldn't help but soak in the voguishness of the imposing reception area called the W Lounge. Art and design are integral mantras embedded into the DNA of the whole W concept, so modern art pieces are spread at the W Lounge and throughout the hotel.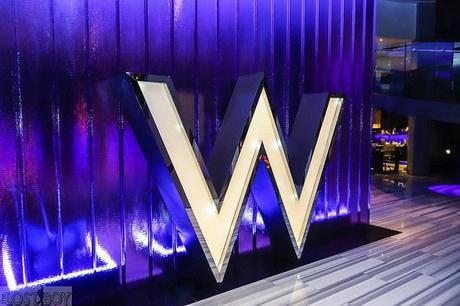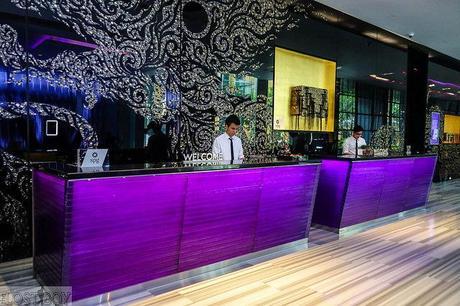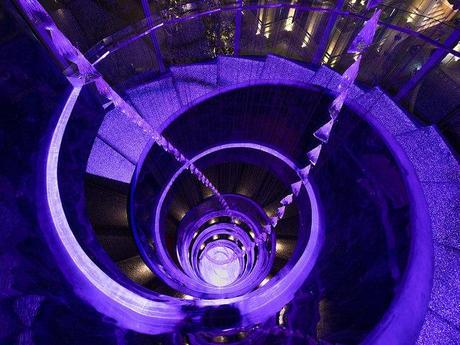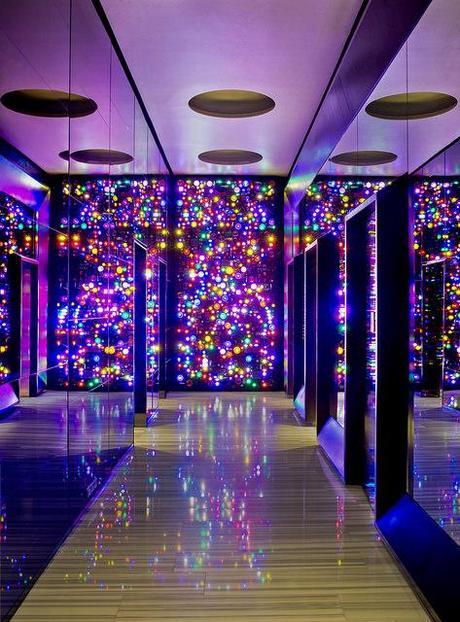 After a ride up to the 16th floor, we were brought to our Wonderful Room, a 43-square meter triangularly-shaped room that has a mesmerizing panoramic vista of the the Bangkok skyline.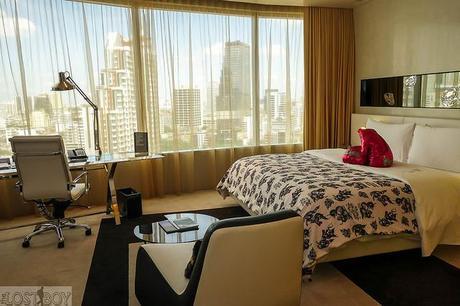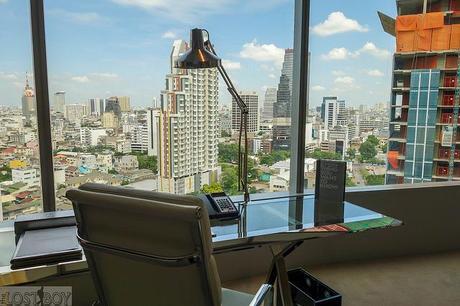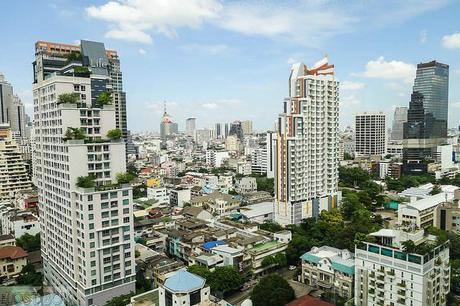 Carefully laid out, the room provides much sense of space and therefore a relaxing atmosphere. The décor, consistent with the avant-garde vision of W Hotels, is edgy and modern down to the smallest details, such as a dragon-printed bed cover, a sleek rocking chair, oversized pink boxing gloves as pillows, and an uber-cool touchscreen tablet that controls the room's temperature, lights, and alarm.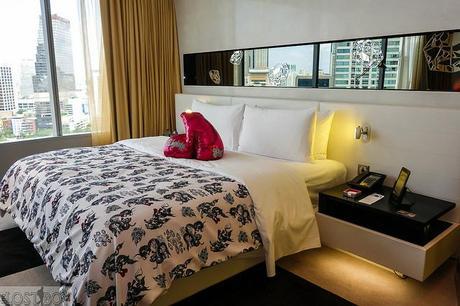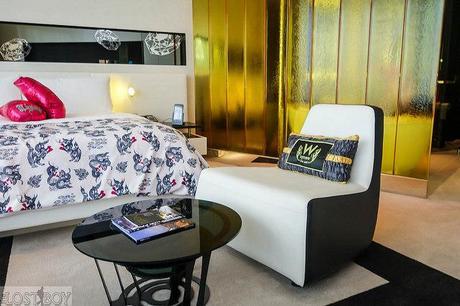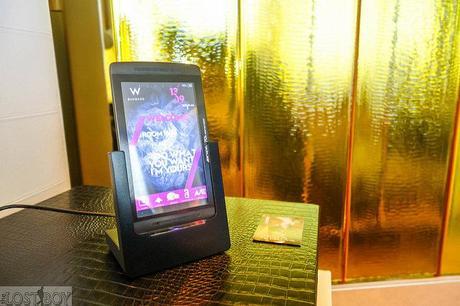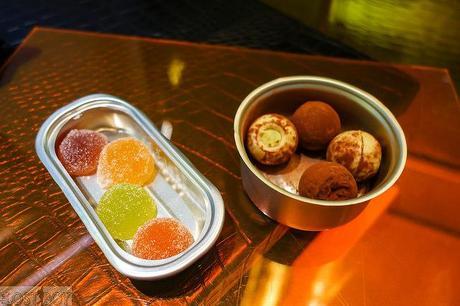 Fitted with high-thread count sheets and paired with pillows customizable from a menu, the W signature bed lays regally in the middle of the room. Honestly, it has the right firmness to it that I found it to be one of the most comfortable hotel beds I've ever slept on.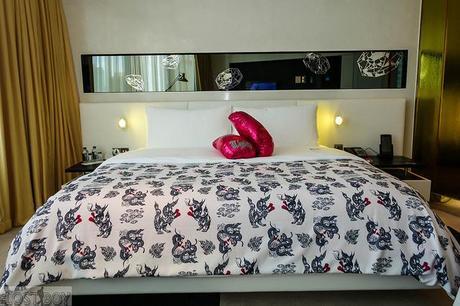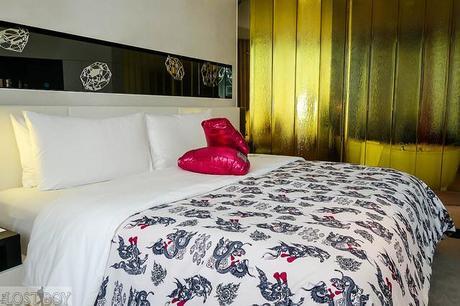 The room's features also include an elegant glass desk, a 40" Samsung LED TV with A/V controls, a soundbar docking system, a minibar with a Munchie Box, coffee and tea making facilities, a coffee table, and ample universal power points.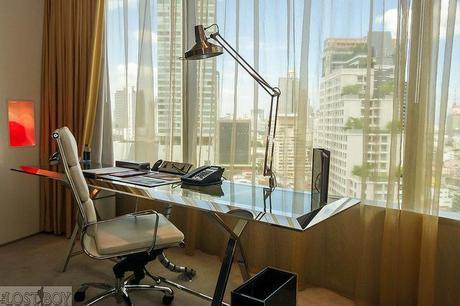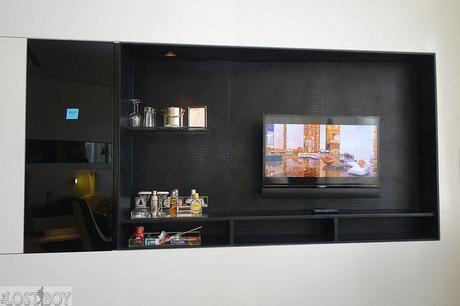 The bathroom, in itself an artistic creation with its black brick and rough whitewashed walls, is separated from the rest of the room by a frosted panel and a funky curtain. But apart from the design, what I also liked about it are that the shower, toilet, and tub all stand alone and that the bath amenities are by one of my favorite bath and body brands, Bliss.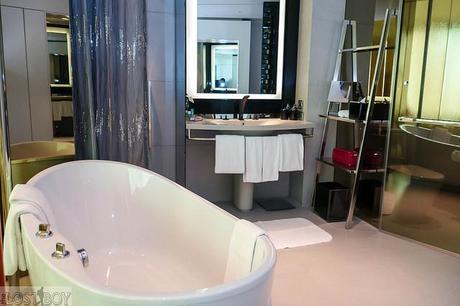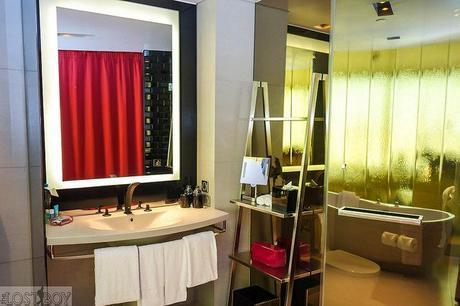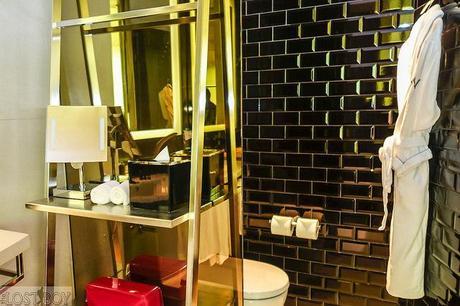 Breakfasts at the W Bangkok are served at The Kitchen Table, the hotel's all-day dining restaurant that offers tasty Thai and Western dishes, including succulent steaks and fresh seafood served creatively and ingeniously. Their modest spread of fleet starters includes delicious Western, Asian, and Thai food perfect to cure those hangovers.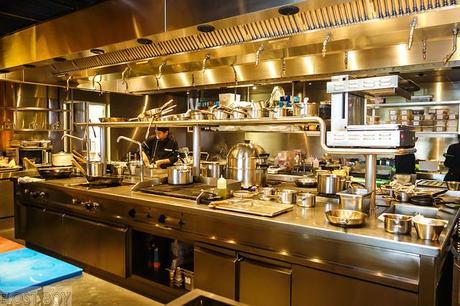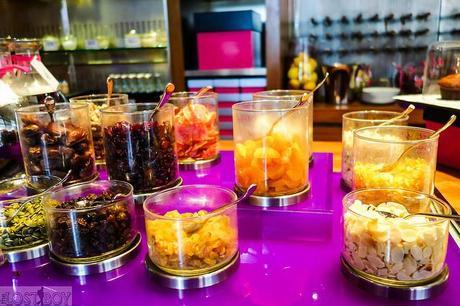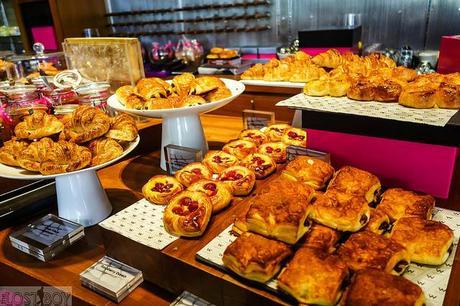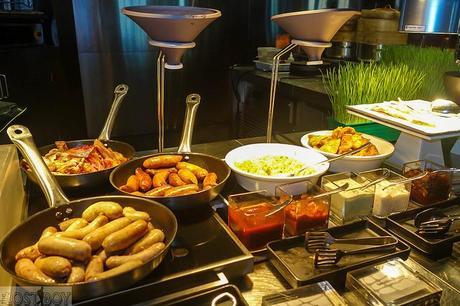 Meanwhile, WOOBAR, the signature bar present in all W Hotels, sees a mix of fashionistas, yuppies, expats, and jetsetters congregate at one of Bangkok's most sophisticated hangouts. Nightly, resident DJs spin sick beats as W mixologists concoct refreshing creations from their Iconic Gin and Tonic menu. It's definitely the place to get the ball rolling for an epic night.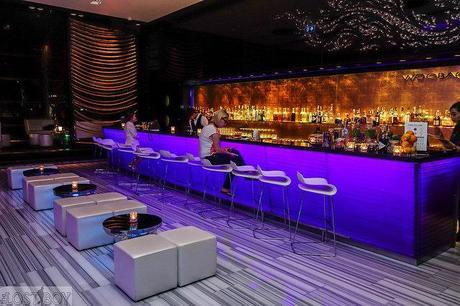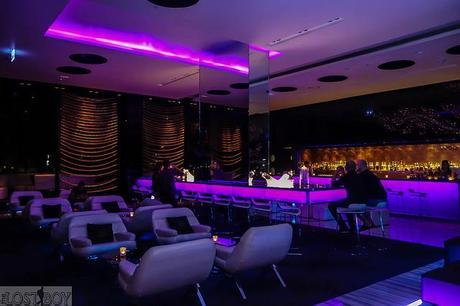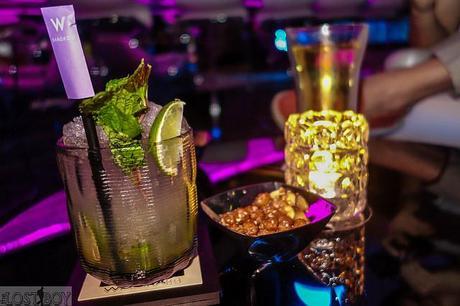 During the day, there's much to do within the hotel. For one, there's WET Deck that goes beyond the typical hotel swimming pool by being quirky in shape and form. Their FIT Gym is equipped with the latest gear and technology, while inside the rooms, W Hotels collaborated with yoga rebel Tara Stiles in coming up with a video of quick yoga poses for its busy guests. Lastly, the famous AWAY Spa is W Bangkok's Zen space to rejuvenate and detoxify.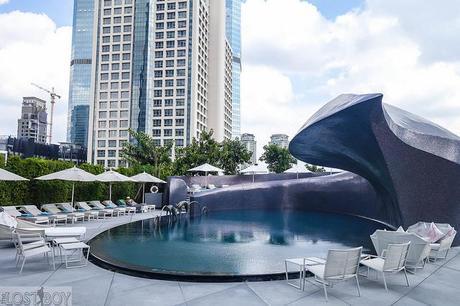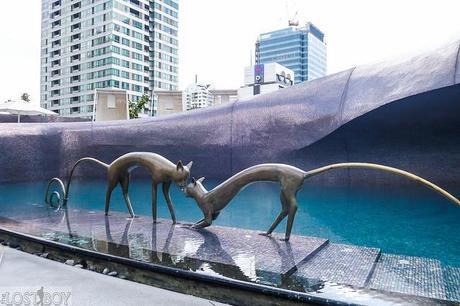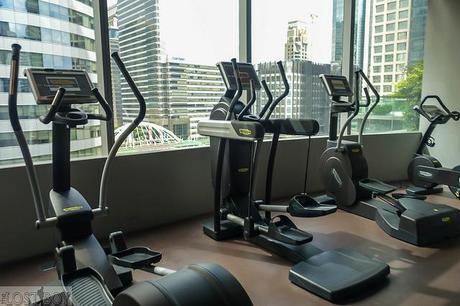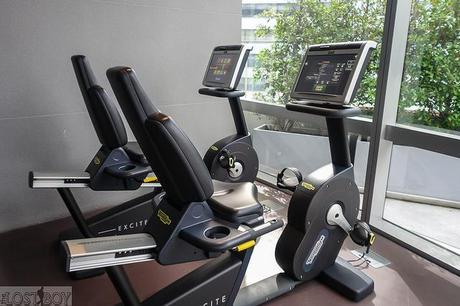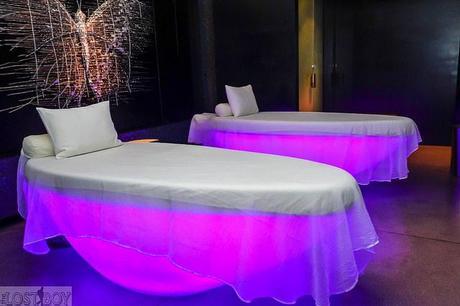 In Bangkok, if not the whole Thailand, good hospitality is the rule rather than the exception, and W Bangkok's staff are absolutely outstanding with their Whenever/Whatever service. However, what sets them apart from the others is their inherent charm and good looks. A popular Bangkok-based online magazine, as a matter of fact, once praised the hotel for its "model-like Welcome Ambassadors" and the "hottest hotties in hospitality."
In all, the W Bangkok is the ultimate go-to for a niche that prefers things out-of-the-ordinary and beyond common hotels. It's a hidden gem most definitely unique, dynamic, and thus refreshing. Surely, it's up there among our favorite hotels in Bangkok and Asia.
W BANGKOK
North Sathon Road, Silom, Bangrak, Bangkok, Thailand
Telephone: +66 2 344 4000
Email: [email protected]
Website: www.whotelbangkok.com
Social Media: Facebook, Twitter, and Instagram