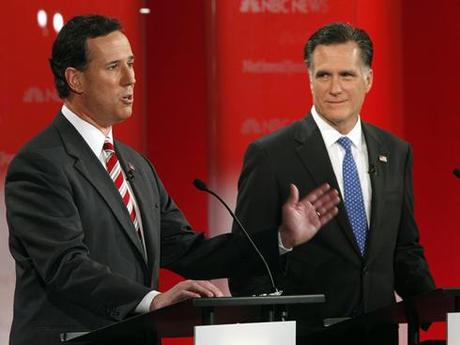 Former Pennsylvania senator Rick Santorum, left, failed to submit a sufficient number of signatures in one of Indiana's nine districts. The co-chairman of former Massachusetts governor Mitt Romney's presidential campaign in the Hoosier State will be one of the officials who has to decide whether Mr. Santorum's name should remain on the ballot. Photo: Paul Sancya / AP.
Four Indiana voters decided on Monday to challenge Republican presidential candidate Rick Santorum's status for the state's primary, which is due to be held on May 8. Although the former Pennsylvania senator filed over 4,500 signatures in total, he only provided 492 valid signatures from registered voters in the state's 7th district.
Initially, Mr. Santorum only collected 476 valid signatures. However, last Wednesday his campaign team provided the Marion County voter registration office with an additional 49 which, they said, had been "wrongly rejected".
Mr. Santorum's staff explained a week ago that the 24 signatures which were missing had probably been rejected because they were not legible. However, Cindy Mowery, the Republican board member in the county's voter registration department, stated at the time that the problem lied with the addresses contained on the petition which, for some reasons, showed discrepancies with the addresses found on individual registration files.
The four voters, Jerry Bickle of Columbia City, Philip A. Smith of Indianapolis, Reynaldo M. Farias of Noblesville and Christopher C. Watson of West Lafayette all decided to file challenges with the Indiana Election Division because they felt Mr. Santorum had not met the conditions required to take part in the Indiana primary. Former Massachusetts governor Mitt Romney, former House speaker Newt Gingrich, and Texas Congressman Ron Paul all qualified for the state's contest.
Now Mr. Santorum's right to participate in the state's primary has been contested, the state's election commission, which consists of two Republicans and two Democrats, will have to decide whether the former senator's name can remain on the state's ballot.
Should the commission decide that he cannot take part in the primary, Mr. Santorum could re-submit signatures he believes have been unfairly rejected. Alternatively, a court hearing could be held to rule on the matter.
It was revealed on Monday that the chairman of the election commission was Dan Dumezich, who also happens to be the co-chairman of Mr. Romney's presidential campaign in Indiana. In other words, Mr. Dumezich will be one of the members who have to decide whether to accept or reject the voters' challenges. Mr. Dumezich does not believe his relationship with Mr. Romney will present a conflict of interest.
"In my mind, I can always maintain my objectivity," he said. Furthermore, he explained that the commission tended to favor candidates when challenges were filed. However, he added that if somebody wished to "argue" the fact that he may not be impartial, he would be willing to listen.
Mr. Dumezich is hoping to hold a hearing to decide on Mr. Santorum's status in the not too distant future. In any case, a decision will have to be made by March 1.