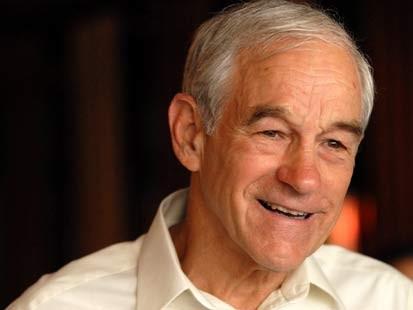 Texas Congressman Ron Paul hopes that the official
unemployment numbers are not fooling anyone.
In a piece published on his website earlier on this week, Texas Congressman Ron Paul comments upon the job numbers published by the Department of Labor on Oct. 5 which showed that the official unemployment rate had fallen below eight percent (8%) for the first time since President Barack Obama took over from George W. Bush.
As Dr. Paul points out, these so-called promising numbers do not – or, more precisely, should not – fool anyone, especially since the job figures turned amazingly positive a few weeks ahead of the presidential election.
The numbers look "nothing like a recovery. 23 million people are still out of work or chronically underemployed," Dr. Paul remarks, before adding that the number of people without a job and the number of those who want to work full time but are only able to find part-time employment are likely to increase substantially in 2013.
In addition, Dr. Paul reminds the reader that the way the unemployment rate is calculated purposely misrepresents the true economic situation. Indeed, Dr. Paul explains, back in 1994 government statisticians took the decision to create a new type of laborers, known as "discouraged" workers, that is those who have decided to give up looking for work simply because there aren't any job openings, in order to exclude a large number of individuals from the unemployment statistics.
"Now all the government has to do to improve the unemployment numbers is discourage people from looking for a job," Dr. Paul remarks. Although the Obama administration, and those preceding it, may have been able to deceive ordinary Americans and some businesses, astute business leaders know that these so-called official figures are far from being a reflection of the truth. Dr. Paul quotes Jim Rogers, a global investor and the co-founder of the Quantum hedge fund, who doesn't not trust officials one iota and points out that, with an election a few weeks away, there are even more reasons to massage the figures.
"I have learned not to take advice from the government, especially the US government, which frequently misleads its citizens," Mr. Rogers explains.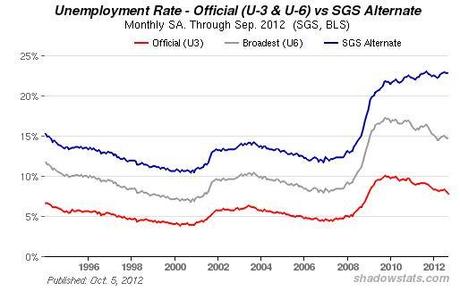 Source: Shadow Government Statistics, Oct. 5, 2012.
Because of this widespread distrust, renowned economist Walter J. "John" Williams set up Shadow Government Statistics in order to "show business leaders the real economic picture." Using more trustworthy calculation methods, Mr. Williams found that the real unemployment figure is, in fact, close to 23 percent.
"This is a difficult figure to accept as the actual truth. Perhaps if the politicians did, the people would finally demand real change and real solutions. Perhaps they would consider that all of the so-called stimulus spending, quantitative easing and mountains of regulation from Washington has only crippled the economy," Dr. Paul concludes.