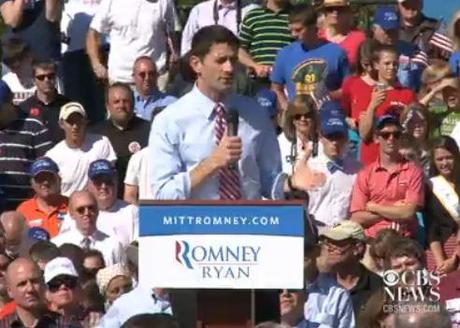 Vice-presidential candidate Paul Ryan criticized Barack Obama for not doing enough to help the economy. Photo: CBS News.
Republican presidential nominee Mitt Romney's running mate Paul Ryan mocked President Barack Obama's decision to publish a 19-page booklet highlighting the policies he will be pursuing if he is elected to serve a second term. The Wisconsin representative was addressing a 1,000-strong crowd in Bristol, Virginia, when he dismissed the president's program.
"You know President Obama hasn't really given us a vision for a second term agenda. Just a couple of days ago, he came up with a slick new brochure, you know, with less than two weeks left to say, 'Oh, I do actually have an agenda,'" Mr. Romney's running mate said.
The vice-presidential candidate was referring to the booklet released by the Obama campaign to silence critics who had pointed out that the incumbent president's planned policies contained very few details.
Mr. Ryan also criticized the Obama administration for not doing enough to help the economy, which he described as stagnating. The Wisconsin congressman did not acknowledge the fall in the unemployment rate last month, which many believe was massaged ahead of the Nov. 6 contest.
"You see, where we are today is our economy is barely limping along. It is slower than it was last year. Last year was slower than the year before. Job growth in September was slower than August and August was slower than July," Mr. Ryan said, before promising the coal industry that a Romney-Ryan administration would put an end to the "war on coal."
"We, in Wisconsin, we use coal. It keeps our electricity rates down, it keeps our businesses operating. You produce coal, it keeps good families supporting wages and jobs. And this war on coal is going to end when we elect Mitt Romney the next President of the United States, I can guarantee you that," Mr. Ryan pledged.
A few days following the first presidential debate, Mr. Romney addressed a crowd of supporters in Abingdon, Virginia, and emphasized the importance of energy independence and the role coal and oil could play in achieving such a goal. In addition, he criticized the Obama administration for placing too much emphasis on renewable energies.
"If I'm President, I'll double them [the number of permits and licenses] and also get the oil from offshore in Alaska. And I'll bring that pipeline in from Canada. And by the way, I like coal. I'm going to make sure we can continue to burn clean coal. People in the coal industry feel like it's getting crushed by your policies. I want to get America and North America energy independent so we can create those jobs," he also told Mr. Obama during the Oct. 3 debate.