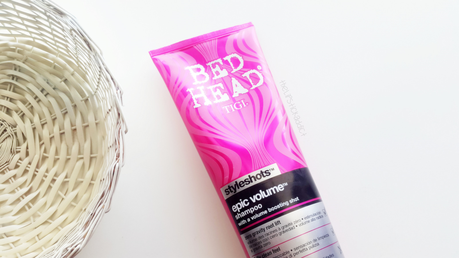 I have fine, limp and flat hair and that makes the hair styling super difficult. Styles like – updo's, buns, occasionally pony too just doesn't suit. And having bad hair days, complicates the problem a bit more.
So I have been on a hunt for some volumizing products to help me fight this style issue.
And today, am sharing with you my favorite –
Tigi Bed Head StyleShots Epic Volume Shampoo
Claims –
Blow it out, tease it up, whatever your style may be. Sulfate-free shampoo with a volume boosting shot explodes your style, taking it to new heights
How to use –
Work lather into wet hair.

Rinse well.

For hair bursting with fullness, follow-up with Epic Volume Conditioner.
What I Love –
Volumizing – Boosts the volume of fine, limp and flat hair and adds the bounce; seriously epic!

Long Lasting Result – Volume and bounce stayed upto 2-3 days without using any other volumizing products

Scent – Smells like bubble-gum and strawberries mix

Texture – Creamy and moderately thick

Packaging – Comes in a shiny pink easy to use squeeze tube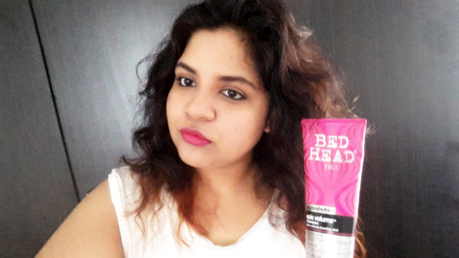 However, without a good conditioner I find this a little drying on my color treated hair. For this, I found that applying a rich conditioner following the shampoo does the trick!
On a side note, I have read many rave reviews of Tigi Bed Head Style Shots Epic Volume Conditioner too and I think as a duo this would be certaintly double the epic! Can't to grab that one!
Qty – 250 ml
Price – 750 Rs
Caution – Tigi doesn't sell its products through any e-commerce website, their products are available with the Lakme Salons through out the country.
Tigi products being sold on shopping sites are priced at double and/or triple their original prices. It's advisable to buy with the direct seller i.e., Lakme Salon.
**Yes, I have had bad experience in this regard and hence warning ya!
So for the moment, I basking in the glory of my beautiful bouncy hair. Flat and limp hair? No signs of it! This is undoubtedly my favorite.
What's your favorite volumizing shampoo? Have you tried Tigi yet?
Much Love