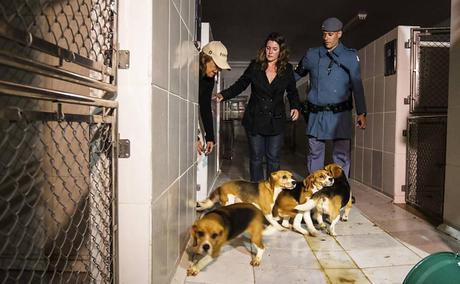 Three weeks ago we shared a story about an Oct. 18 protest in São Roque, Brazil, where activists stormed the Royal Institute and liberated 178 beagles from the research laboratory. Today the Associated Press announced that the lab is permanently shutting down.
The Royal Institute was reportedly the only lab of its kind in Brazil. It's operating license was suspended by the city government after the protest, as police investigated allegations of animal abuse. Now Brazilian drug makers who wish to use animal testing will have to do so through labs outside the country.
Vivisection labs maintain abusive, often illegal conditions for the animals in their facilities. Hopefully this we'll be a wake-up call to animal testing groups and activists everywhere, that sometimes a few inspired actions are enough to shut labs down for good.
View more pictures of the action here.
The Earth First! Newswire brings you news and analysis from the front lines of eco-resistance. Please consider donating, or subscribing to the Earth First! Journal, today.