We Florida residents get some decent discounts for the amusement parks. Add that discount to the "Disney money" we got for sitting through a timeshare presentation not too long ago, and that spells awesome free trip to Disney! Just a couple of weeks ago, we headed up to use all of our discounts and as we walked around Disney's Main Street area, we noticed so many people carrying and toting those selfie sticks around for their photo ops.
In all honesty, if it hadn't been for the fact that I blog I would have had no idea what a selfie stick is used for and would have thought it was just for kids and their selfies. There are so many times I need to get a good picture but don't have anyone around to help me out by snapping it for me. Other times there's an angle I want to capture, but my arms aren't long around or don't twist around enough to get that "perfect picture". This is where a selfie stick comes in handy.
I purchased one from Amazon - of course I looked for the cheapest one, and when it arrived I realized that bluetooth in these things is CRITICAL. While the $4 selfie stick I received is mediocre for your very basic of angled shots, it is useless when I'm trying to take a picture of any distance that you can't reach. How do you hit the "take photo" button your smartphone if it is pulled out onto the end of a stick? The answer? YOU CAN'T!

So onto this product.......
When I saw the VivaSelfie Bluetooth Selfie Stick offered for review, I knew that I just had to get in on it, so I signed up and was selected. When the product arrived, I was impressed with the packaging and the included instructions, that of course I didn't read since I wanted to get my hands right on the product.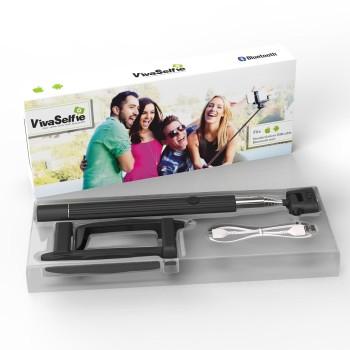 The VivaSelfie Bluetooth Selfie Stick arrived in a box. It has a handle with a built-in bluetooth and button, an on and off switch at the bottom of the stick, a micro-USB port at the bottom of the stick to charge the stick, 2 different-sized cellphone holders, a USB cable. The VivaSelfie stick was fully charged when it arrived, so it was all set to use. I was pleased that it had an on and off switch at the bottom because it's nice to conserve the battery on the VivaSelfie stick. (Not to worry though - it's rechargeable through the included USB cable, so you can recharge it right in your car if need be.)
Pairing was super easy with my iPhone 6. I then paired it to Jane's Samsung Note and it was simple as well. No problems with pairing and no codes were required - my favorite kind of pairing. The product is compatible with iOS 4.0 and Android 3.09 system or above. On my iPhone 6, the VivaSelfie stick showed up as "DSQX" in my Bluetooth devices list. The instructions indicated if for some reason the pairing didn't work, that I should download the KJStar-365 app. Fortunately, it paired easily since I wasn't even able to find that app in the Apple App Store.
The VivaSelfie stick is different from so many of the others because it has one simple feature that I love: it has a telescope feature. You can adjust the view with this simple twisting knob. I've seen several other selfie sticks since I received this one, and none of them have this feature included: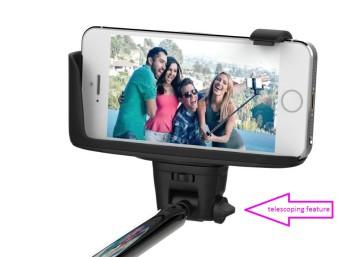 The VivaSelfie stick extends until approximately 38 inches which I think is nice because it can capture the background - and I mean some substantial landscaping - in addition to the subjects to be included in the photo. When I was using the VivaSelfie stick, I was able to raise the pole to get a few "above the crowd" shots too! It can easily be pushed to go back to its original length.
I love the built in shutter button designed for continuous shooting with my phone and I also love how lightweight the non-slip grip stick is while sturdy at the same time. Some obvious instructions include: (1) Charge the VivaSelfie stick as soon as you take it out of the box for at least one hour, (2) next pair the stick with your smartphone by going to your phone's bluetooth setting and pair it, (3) don't clean the VivaSelfie stick when chemicals - use a damp rag if you need to wipe it off, and (4) keep it stored in a cool dry indoor location. The handy instructions included make all of this very clear, fast and easy. If you have any problems with the VivaSelfie stick, the company does offer a 45-day refund or replacement guarantee too!
Head over to Viva Selfie's webpage or connect with them on Facebook, Twitter or Instagram! You can purchase the Viva Selfie for yourself by heading over to Amazon ====> HERE! Here's a video from Angela at Selfie Stick breaking down how this selfie stick works:
I received the product mentioned above for free using Tomoson. Regardless, I only recommend products or services I use personally and believe will be good for my readers.

Please make sure to visit my homepage and subscribe to my blog for more great posts on running, fitness and lifestyle topics as well as food, product, music and book reviews, and more!