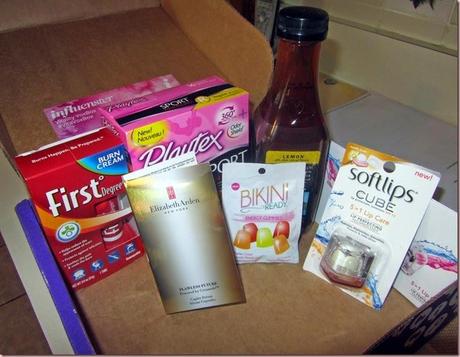 Ciao dears!,
   I've been meaning to finish this post for a while, but I haven't been a good blogger the past month.  I've been super busy with wedding planning (so much to do!!), graduate school, and still searching for a full time teaching job (still a substitute…boo!).  I'll update more about al of those things later.  Today's topic is a fun box full of goodies I'm going to review called the Vitality Voxbox!  I was sent these products by Influenster to give my honest opinions about.  I'll list them one by one and tell you what I thought.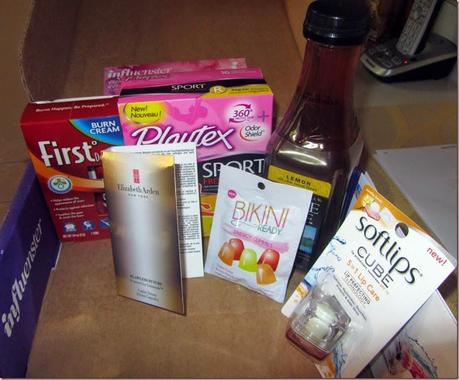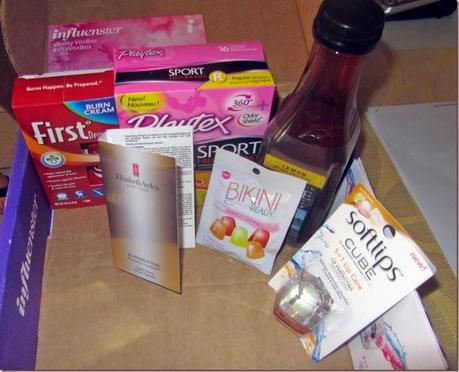 Here, on the card they sent with the products, you can read all the company's descriptions of the products as well as see their Facebook/social media information in case you want to go "like" them or look them up.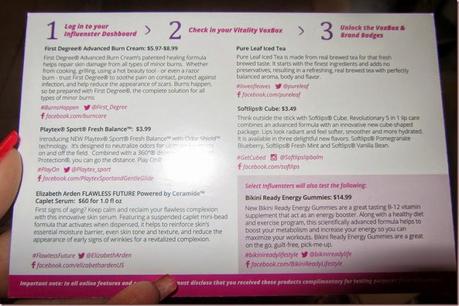 1.) Pure Leaf Iced Tea
   I usually try not to drink too many beverages with calories (although diet drinks are bad for you too…), but I made an exception for this.  I like that there are no preservatives, making it healthier and less chemical-filled than some drinks.  It tastes so fresh, like you just brewed it in your kitchen and poured ice over it!  It doesn't have that overly sugary fake taste that some iced teas have.  I'd definitely recommend this as a refreshing and tasty drink to try if you haven't. 

2.) Soft Lips Cube in Vanilla Bean
   This was my favorite product in the box!  It's a lip balm that makes you lips feel instantly softer, smother, and hydrated.  I really loved how soft my lips felt every time I applied this.  I've been carrying it around in my purse for the past few weeks and I love it!  The smell and taste are also incredible, like vanilla cupcake!  My fiancé likes it because it makes my lips soft and kissable and he says it makes them taste good…ha!  The only negative about this product for me was that after about 2 weeks, the lip balm got stuck to the top of the lid, so now I have to scrape it out of there.  This might b e my fault though, maybe I left it in the heat, making it too soft or something.  It still works great though so it's not a big deal.
3.) Bikini Ready Energy Gummies
   I was given a little packet with 2 of these gummies.  They are a tasty little B12 energy boosting/metabolism boosting gummy vitamin.  I took them on 2 separate days, and I did feel a little surge of energy, nothing too crazy but still helpful.  I took one before working out and I felt a little more energized to keep going.  I'm considering getting a full bottle of these to help with having enough energy to work out on days when I'm feeling too tired.
4.) First Degree Advanced Burn Cream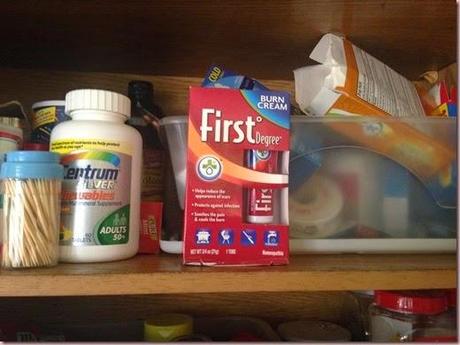 As you can see, I'm keeping this cream in my medicine/spice cabinet in my kitchen because I'm sure it'll come in handy.  Although I was lucky enough not to need this myself yet, my mom burnt her finger on a curling iron and I was excited to use this one her…lol.  She said it helped with the pain and seemed to heal the scar within a week.  I'm sure I'll need this again as I tend to burn myself with curling irons every so often.
5.) Playtex Sport Fresh Balance Tampons
   I was sent these once before in a voxbox and asked my 16 year old niece to use and review them for me because I don't use tampons ever.  ( I use pads, and have just never wanted to use tampons for personal reasons).  Her first reaction when she opened the box was something like "Oh my gosh, it smells like flowers!!"  So, it's safe to say they smell pretty and floral.  This time, I gave them to my sister, who also said they smelled nice and that they worked well.  She didn't have any leaking issues and wore them while working out without any problems.
6.) Elizabeth Arden Flawless Future Powered by Ceramide Caplet Serum
   I was excited to use this tiny bottle of skin serum because what woman doesn't want nice skin and to reduce any present/future signs of aging?!  It's supposed to "reinforce skin's essential moisture barrier, even skin tone and texture, and reduce the appearance of early signs of wrinkles."  I've been applying it at night, after washing my face, as well as sometimes in the morning.  While, at 23, I don't really think I have any wrinkles or signs of them, I have noticed my face looking more even toned and clear.  If it helps reduce any possible future wrinkles, I'm all for that too.  I would recommend this if you're looking for a face serum to prevent wrinkles and keep your skin looking flawless.   You can find this serum here if you're interested: http://bit.ly/EAFlawlessFutureSerum
   That's all for now.  Hope you enjoyed this post.  I'm going to try my best to find more time in my schedule to blog about the 1,000,000 things I've been meaning to for a while. 
P.S.: As, I mentioned before, I received these products complimentary from Influenster for testing purposes.