Ok, so we may be a tad obsessed with t-shirts. What can I say, we love the ease of which t-shirts allow people to express themselves. We love the fact that people form strong emotional bonds with this simple cotton garment. We love that t-shirt design, unlike much of the fashion design world, is available to anyone with a computer and an imagination through sites like Fibers.com and our do-it-yourself t-shirt design tool. But there was a time when t-shirts were reserved for undergraments, sailors and football players. Now anyone, from the president to a toddler can proudly sport their likes, dislikes and passions on a t-shirt.
So what shifted? Well in our Movie T-Shirt Anthology graphic we saw the progression of t-shirts in film from utilitarian undergarment, worn primarily by sexy rebels and crazy people.

If you can't tell, here we have Marlon Brando from A Streetcar Named Desire (1951), James Dean in Rebel Without a Cause (1955), Jack Nicholson in One Flew Over the Cuckoo's Nest(1975) and Animal from the Muppet Movie (1979). T-Shirts grew in popularity from the 1950s to the 70s, but really blew up as mediums of self expression in the 1980s.
Here was have a graphic illustrating the most influential designs within the world of t-shirts.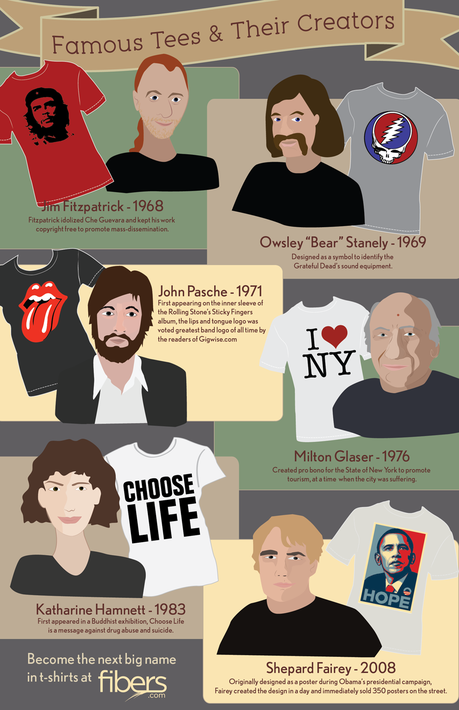 Jim Fitzpatrick and John Pasche actually responded to this graphic. Fitzpatrick liked it but wanted his hair redder, so I adjusted that for him. Pasche said he wished he still looked that young. I can't do anything to help with that. Either way, it was a huge honor to hear from these pioneers in my medium.
One giant in the entire graphic design world, not just t-shirts, is Milton Glaser. He's especially important for his contribution to the t-shirt medium because of his I Hear NY design. This graphic explores that design from inception to parody and beyond.

So, dear t-shirt fans, these greats have paved the way for what we have today – a powerful engine of self expression. What are you waiting for? Express yourself. Head over and create your own t-shirt today!