Visit Malaysia Year 2014 has officially commenced, and where else is better to see festivities unfold first hand than Kuala Lumpur? And so on the afternoon of New Year's Eve, we flew more than two thousand miles to Malaysia's federal capital. Read more…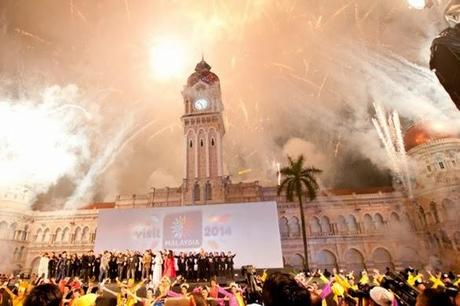 FLASH MOB AT PAVILION KUALA LUMPUR
Our friends from the Visit Malaysia Year 2014 Secretariat organized a surprise flash mob outside Pavilion Kuala Lumpur in Bukit Bintang to celebrate the new year and to mark the commencement of the year-long event. Of course, we were there to join in on the fun.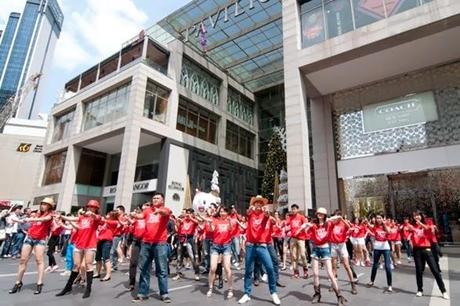 About 150 people wearing special red shirts participated in the flash mob, performing to such hits as 'Barbra Streisand' and Avicii's 'Wake Me Up.' Their big number ended with everyone dancing to the Visit Malaysia Year 2014 theme to the delight of onlookers and media.
Here's a YouTube video of the flash mob from JMN Official Channel:
WELCOME CEREMONIES AT KLIA AND LCCT
After the flash mob, we headed off to Kuala Lumpur International Airport (KLIA) to witness a special welcome ceremony led by YBhg Datuk Dr. Ong Hong Beng, the Secretary General of Ministry of Tourism and Culture. Also present were top government officials and tourism industry players in support of this grand year-long event Malaysia is hosting.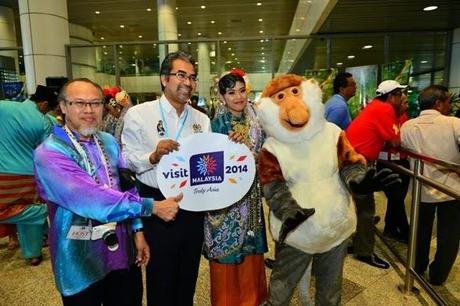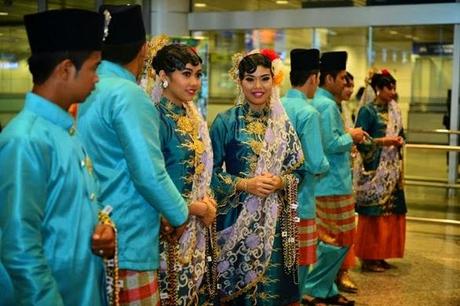 Ushered into the arrival hall of KLIA were 69 tourists from Beijing and 20 from Shanghai, amid traditional presentations, teh tarik (pulled tea) demonstration, and handing of tokens to all tourists. Also present during the reception were the Proboscis Monkey, the official mascot of Visit Malaysia Year 2014, and our friends from MYPass Malaysia.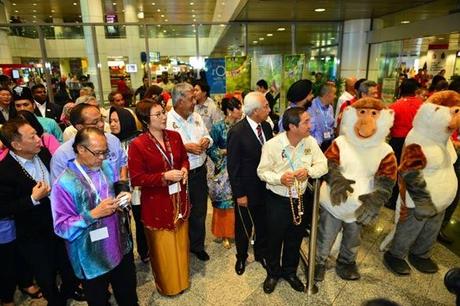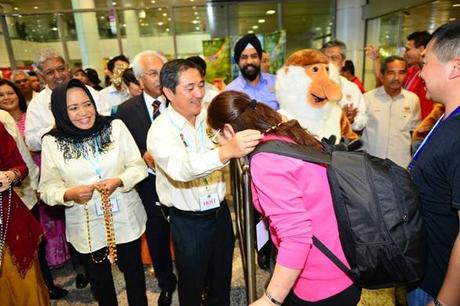 We afterwards went to Low Cost Carrier Terminal (LCCT) for similar welcome ceremonies, but there, the CEO of Malaysia AirAsia herself, Ms. Aireen Omar, was with us in handing gifts to tourists. Visitors were likewise greeted in all 37 entry points throughout Malaysia.
THE GRAND LAUNCH AT DATARAN MERDEKA
On January 4th at lunchtime, we checked out the pre-event activities unfolding at the Dataran Merdeka. We had lunch at the food booths specifically setup for the event, with different Malaysian states sending in a representative signature dish. Among those we tried were the nasi kerabu ('blue rice') and mee hoon sup (vermicelli soup). After our hefty lunch, we went to view the booths of the event partners.
Past eight in the evening, the launch was officially started with the arrival of distinguished guests led by the Deputy Prime Minister of Malaysia, YAB Tan Sri Dato' Haji Muhyiddin Mohd Yassin and the Minister of Tourism & Culture, YB Dato' Seri Mohamed Nazri Tan Sri Abdul Aziz.
After their welcome remarks, an impressive 3D building mapping of the Sultan Abdul Samad Building, colorful and lively cultural presentations representing Malaysia's multifaceted culture, and a big fireworks extravaganza all received roars of delight from a crowd estimated to be more than 50,000 strong. Further, premiere artists, Dato' Siti Nurhaliza and Datuk Khadijah Ibrahim, gave well-received performances, and also taking the stage were Datuk Jamal Abdillah, Amy Search, Hafiz, Nash, Azlan & the Typewriter, Awie, and Najwa Latif.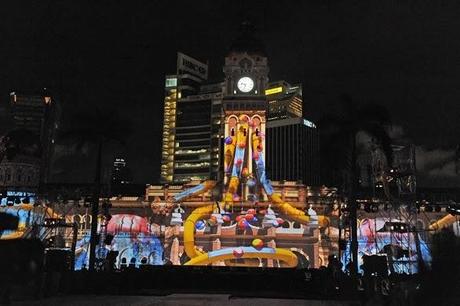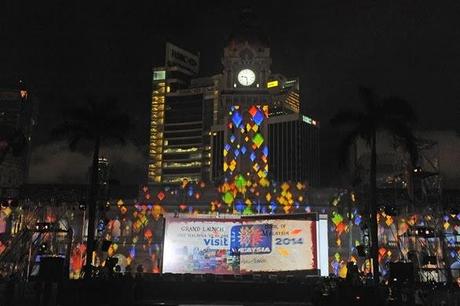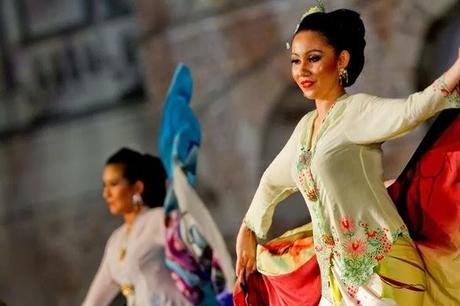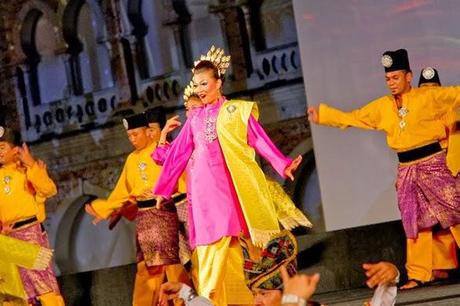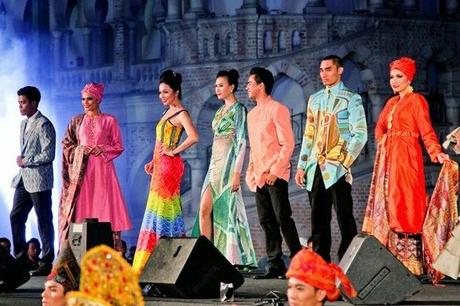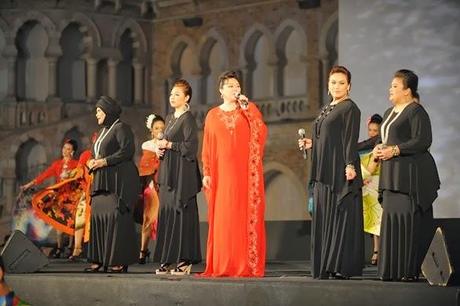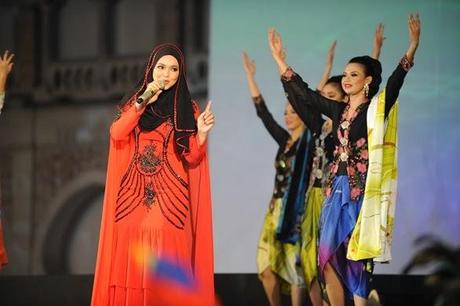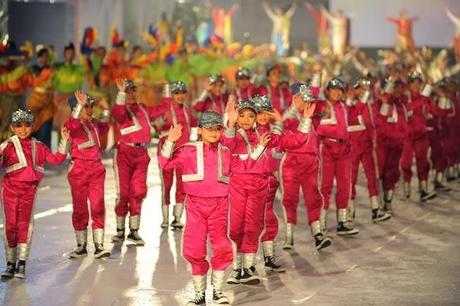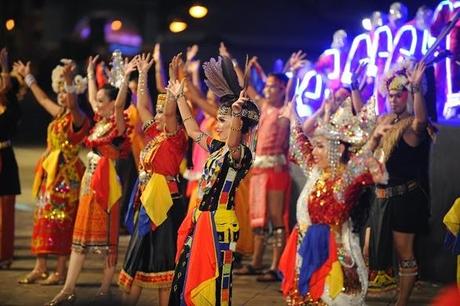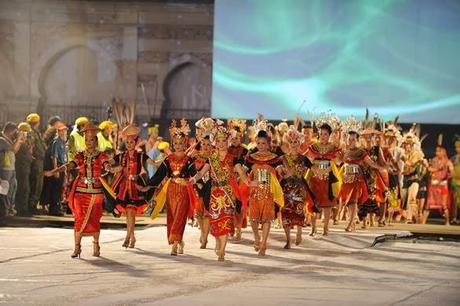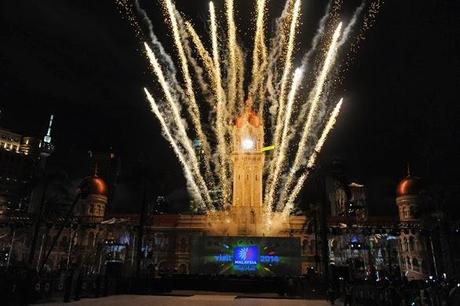 The primary targets of Visit Malaysia Year 2014 are to accept more than 28 million tourist arrivals and 76 million MYR in tourism receipts, and to achieve these goals, more than 50 mega events and 200 exciting events and festivals have been spread out the entire year.
Photos courtesy of Shamsul of Gaya Travel Magazine and Tourism Malaysia.

This year is Visit Malaysia Year 2014 with the theme, "Celebrating 1Malaysia Truly Asia." Visitors can expect a series of year-long special events and activities. For more updates on VMY 2014, check out tourism.gov.my and like Tara Na Sa Malaysia on Facebook.