The Yellow Window Coffeehouse can be found in the old part of the city. Like all local catering businesses it has been much affected by the Corona Virus regulations and lockdown. Currently offering take-away, The Yellow Window should also be on your list of places to pick up a great coffee as restrictions ease as the coffee and the cookies are delicious.
Meet Dominic, who runs The Yellow Window.
Hi Dominic! Can you start by telling us about The Yellow Window-where and what it is?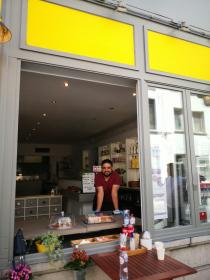 Dominic at The Yellow Window
The Yellow Window has been open since November of last year, located at Vlasmarkt 8, 2000. The Vlasmarkt is just off the busy shopping street Hoogstraat, where there is a range of international bars and restaurants.
We serve  breakfast and lunch dishes accompanied by high quality coffee which is supplied by a local micro-roasting company: Cross Roast. We have three aims: tasty food, great coffee and impeccable service (with a smile). One thing I learned over the past ten years of working in catering is that the customer always appreciates a friendly attentive waiter or bartender, and it's something I personally appreciate when I'm out for dinner or drinks. 
What about you? Where are you from and what's your work background?
I grew up in the midlands of Ireland (lots of green fields and cows) from the age of ten, although I'm originally from the UK. Ireland is home for me and I love it dearly. I always knew I wasn't going to stay in Ireland after school, as I had that desire to travel and see the world. After school, I returned to London to work for two years in bars. I loved living back in London but It wasn't going to be long term. I then went onto Spain to work two seasons in bars, nightclubs and restaurants (with way too much partying!). I then returned to Ireland for one year, working in a hotel.
I moved over from Ireland in 2015 and have been living in Antwerp for the past five years. Originally I intended to stay for six months to a year, but from the moment I arrived in Antwerp I fell in love with this beautiful city. 
What do you like about living and working in Antwerp? What are the challenges?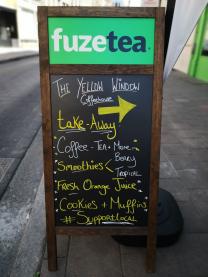 There's lots I love  about living in Antwerp. There is beauty on every street, from the very accessible Meir shopping street, to the beautiful buildings throughout the city. The parks, the museums, the bars, the beers, the food, I could easily go on and on and on! 
Before I came to Antwerp, I didn't know much about the city, the languages or the Flemish people, and I was nervous that it was going to be difficult to communicate with customers, or in the shops but I was pleasantly surprised that the majority of the community speaks English. I have met some of the nicest Flemish people during the past five years. 
The biggest challenge I have found since being in Antwerp is trying to learn the language. I do my best in certain situations and I can understand more than I can speak. Having my own business has motivated me to learn and understand more and more everyday. 
How has the pandemic and the shut-down affected The Yellow Window?
Other than the fact The Yellow Window was only opened for three full months before the shutdown, the effect has been huge! I have had to re-think and reorganise my business plan for the future.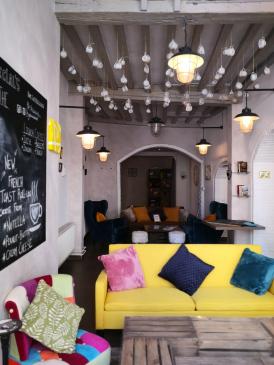 The Yellow Window interior: soon customers will be able to come back inside
I have many ideas, with some already in place. I have been exploring many options for the future and I am very excited with what's coming up at The Yellow Window. 
Now that the next phase of the government's plan is going ahead on June 8th, I can look forward to (I hope) regaining a more steady flow of customers, even with the long list of restrictions. 
One thing I will say is – watch this space!
Lots of people seem to have become enthused about baking during lockdown. Do you have a great recipe for us to try?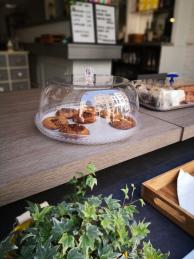 home baked cookies at The Yellow Window
Before the lockdown I never saw myself as much of a baker; now, I have made many batches of cookies over the past few months. I tried different recipes I pulled from the internet, making many mistakes along the way but I have landed on a recipe that is working well for me. I can't take the credit, as it's not my recipe. It's this one from Sallys Baking Addiction. Sally's recipes are very clear and easy to follow.
Find/ contact The Yellow Window:
At Vlasmarkt 8, Antwerp 2000
On Facebook

And on Instagram.
View this post on Instagram

Smarties Muffins & Speculoos Muffins . . . . . . . . . . . . . #sallysbakingaddiction #antwerptoday #thisisantwerp #antwerp #muffins #muffinstagram #smarties #speculoos #chocolate #love #foodporn #instafood #cakeoftheday #cakestagram #coffee #coffeelover #breakfast #lunch #wine #beer #cocktails #carnival #pride #antwerppride #fresh #madewithlove

A post shared by The Yellow Window Coffee House (@yellowwindow8) on Feb 21, 2020 at 3:28am PST
Find & Follow #nessascityblog
ON: Facebook (Events in Antwerp)
Email: [email protected]
& check out #nessascityblog on Twitter & Pinterest & Instagram
View this post on Instagram

#borzestraat #antwerpen #antwerpcity #thisisantwerp #visitantwerp #nessascityblog #stadantwerpen #vierkantwerpen #instantwerpen #streetsofantwerp #antwerptoday #antwerpphoto #anvers #amberes #anversa #handelsbeurs #historicantwerp

A post shared by Vanessa McC (@nessascityblog) on May 30, 2020 at 12:48pm PDT