Share with others. Thanks!
The Sultanate of Brunei is surrounded mostly by the Malaysian island of Borneo, and being very mountainous, there are parts of Borneo without direct road systems. As Brunei shares the same South China Sea coastline with Malaysia, traveling by ferry from Kota Kinabalu (KK) makes good sense. The bus journey can take seven or eight hours, the reason being that Malaysia has provinces, each of which has a border post, and they all do passport checks. (There are also direct flights from Kota Kinabalu to Brunei).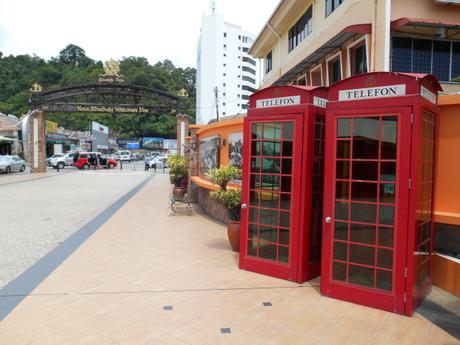 At Jesselton Point, Kota Kinabalu.
Otherwise the ferry trip just requires an exit stamp from Sabah province in Malaysia, and a routine entry into Brunei. Citizens of most countries do not require a visa (info) to enter the Sultanate of Brunei. Most if not all ferries stop at the Malaysian island of Labuan, which is essentially a duty free center. Alcohol is officially not available for purchase in Brunei, so a lot of residents shop on Labuan.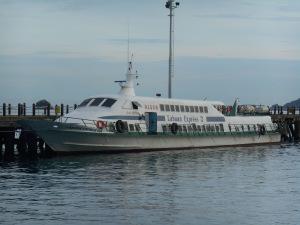 The ferry that brings passengers from KK to Labuan.
The major passenger ferry terminal in Kota Kinabalu is called Jesselton Point (website). Tickets can be purchased the day before for the early morning departures. It is of course advisable to buy the complete journey to Brunei, which covers the trip to Labuan and the onward leg to Brunei. A one way adult ticket to Brunei costs RM60, (about  €15.00, or US$16.00). There is also a RM3 departure fee.
The 8.00 am departure from KK takes just over three hours to reach Labuan, where there is a stop for two hours. The ferry to Brunei departs from Labuan at 1.30 pm, and gets into Muara at 2.30 pm, after passing oil rigs and mega tanker ships. Muara is the ferry port that serves Bandar Seri Begawan, the capital city of Brunei Darussalam. There are city buses and taxis that go into the city from the port.
Bandar has many top brand hotels including the Terrace Hotel and Radisson Hotel. For backpackers there is an excellent option in the Pusat Belia Youth Center (it's near the Radisson). There are really no backpacker hostels listed in Brunei but Pusat Belia is equipped to host tourists. It is essentially a sports complex, with convention facilities also. There is a sports hall and a swimming pool. The center is often occupied by sports teams or government groups, but is usually available for tourists. A dorm bed costs only US$10.00 per night. It is not easy to book ahead so just showing up is no problem. (Tripadvisor reviews).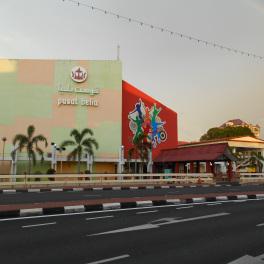 Pusat Belia Youth Center, Bandar, Brunei.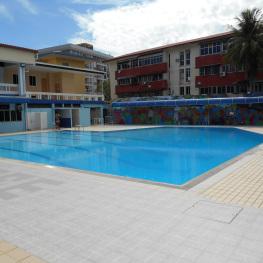 Pusat Belia Youth Center, Bandar, Brunei.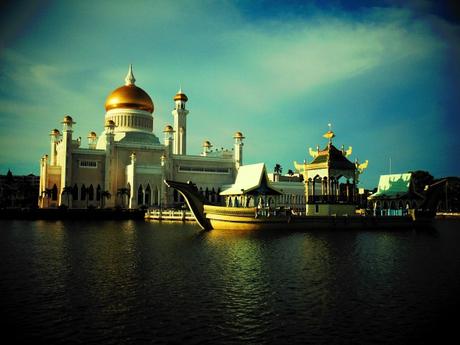 Sultan Omar Ali Saifuddien Mosque, Bandar, Brunei.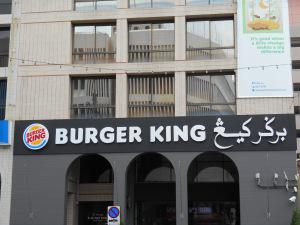 Burger King in Brunei.
It must be noted however that Brunei Darussalam is a predominantly Muslim state, with conservative laws, but is nothing on the level of Saudi Arabia or Pakistan. How this affects guests at Pusat Belia is that males and females have strictly separate dorms. Also alcohol can not be purchased in Brunei. Otherwise it's as laid back as anywhere in Europe. There is no hustle as there is in places like Cairo or Morocco. Fast food is available in the usual 'Western' hamburger and pizza outlets. Although Pusat Belia does not have a restaurant for guests, there is an outdoor food market about ten minutes walk up the street past the Radisson. (Ask at reception for directions). In the other direction there is a large variety of places to eat and shop, especially along the river front.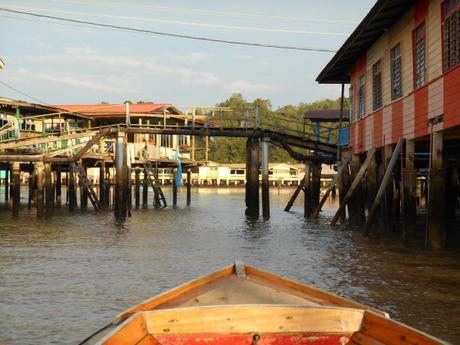 Boating on the Brunei river.
On the opposite side of the Brunei river and on an island in the middle of the river, there are whole communities built on stilts over the water. People have lived on the river for generations – children go to school in boats. People go to work in boats. Tourists can tour around the area in boats. This is one of the few highlights in Brunei, along with visiting the jungles outside the city. Brunei is very tourist friendly, even though it may not appeal to adrenaline addicts. The city has a number of attractions; the main mosque of Sultan Omar Ali Saifuddien being one, another is the Royal Regalia Museum displaying the endless gifts bestowed on the Sultan and the royal family. People are mostly of Malay origin, and are extremely courteous and friendly. English is widely spoken. Women can drive their Land Rovers and BMWs around town without a man. Prices are relatively cheap. Nobody bothers you because you are a foreigner or a tourist. It is very accessible overall.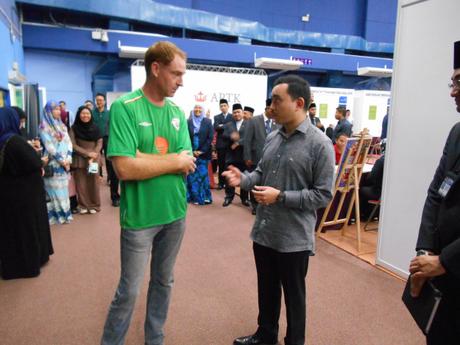 An Irish tourist talking to Prince Malik of Brunei.